News story
4.5 million smuggled cigarettes seized at Felixstowe
Immigration Minister Mark Harper saw first-hand the work of Border Force - including a seizure of 4.5 million smuggled cigarettes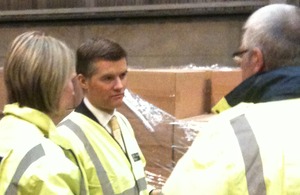 Immigration Minister Mark Harper saw first-hand the work of Border Force at a visit to the Port of Felixstowe today – including a seizure of 4.5 million smuggled cigarettes.
The haul was seized on Sunday (17 March) when officers selected a container that had been shipped from the Philippines for closer inspection.
An examination revealed the 20ft container, which was listed as carrying banana chips, was in fact filled with cigarettes.
Cigarettes
Immigration Minister Mark Harper said:
Keeping Britain's border secure is a top priority for this government.
Border Force officers at Felixstowe are in the front line and this seizure is an excellent example of the terrific work they do to stop contraband goods from reaching Britain's streets.
The size of this detection should leave people in no doubt that tobacco smuggling is a serious organised crime, worth big money to the criminals involved. By stopping this shipment we are hitting smugglers where it hurts, in the pocket.
Immigration crime
If the haul had not been intercepted and it could have cost the treasury about £600,000 in unpaid excise duty.
Border Force officers use hi-tech search equipment to combat immigration crime and detect banned and restricted goods that smugglers attempt to bring into the country.
They use an array of search techniques including sniffer dogs, carbon dioxide detectors, heartbeat monitors and scanners - as well as visual searches - to find well-hidden stowaways, illegal drugs, firearms and tobacco which would otherwise end up causing harm to local people, businesses and communities.
Anyone who has information on suspected smuggling or immigration offences can contact Border Force online or call the hotline on 0800 59 5000.
Published 21 March 2013