Press release
£3.5 million awarded to make sure domestic abuse victims get help
The 46 local authorities that placed successful bids for a share of £3.5 million to support domestic abuse victims have been announced.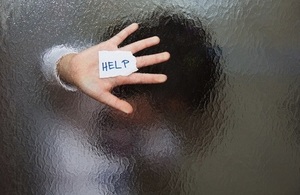 The funding will mean that there will now be 710 new bed spaces in a range of safe accommodation providing shelter to victims of domestic abuse across the country.
With successful bids from every corner of England – from Plymouth to Gateshead – the extra money will also mean that a range of services will now be offered to victims across the country.
Successful bids range from specialist domestic abuse refuges for young women aged 16-25 to specialist training for domestic abuse advisors to cater for the specific needs of Britain's Black, Asian and Minority Ethnic communities.
This funding boost in 2015 to 2016 is in addition to the newly secured funding of £40 million over the next 4 years to support victims of domestic violence, announced as part of the Spending Review.
Communities Minister Baroness Williams, who with Home Office Minister Karen Bradley, has led a review of services working with women's domestic abuse charities, local authorities and other local service providers to gain a much clearer understanding of the range of challenges victims and services are facing.
Baroness Williams said:
Domestic abuse is an appalling crime that shatters lives and this government is determined to ensure that no victim is turned away from the support they need.

This new funding will help local authorities and specialist charities provide a strong safety net for anyone facing the threat of abuse in their own home.

In the Spending Round we have also secured an additional £40 million over the next 4 years – to make sure that victims can access support wherever they are from, anywhere in the country.

We'll set out how this money will be used for victims and areas that most need it with the publishing of the new Violence Against Women and Girls Strategy.
The funding will help local authorities develop a number of different innovative services. The councils receiving funding today for innovative projects include:
Barking and Dagenham who will build on the established foster care process to recruit local residents to provide short term, safe accommodation in their homes to victims fleeing domestic abuse
Birmingham who will open a domestic abuse refuge for young women aged 16 to 25 and especially young mothers. The refuge staff will respond to the unique experiences and needs of individual young women to help prevent return to the abuser – something highly prevalent in this age group
Newcastle who will provide a better service for mothers and their children – focusing on improving their mental health through counselling sessions and establishing peer support networks to maintain their recovery
Oldham who will increase the number of Independent Domestic Violence Advisors who help survivors of domestic abuse who are at high risk of further abuse but are living in the community. This will include specialist training to help meet the needs of victims from Black and Minority Ethnic communities
Portsmouth and the surrounding area who will help victims rebuild their lives quicker, through employing additional staff providing workshops on everything from budgeting to mental health, and extensive training for staff in local authority housing departments and Registered Providers alongside a rent deposits bond scheme which lends victims money to help them secure new homes
See the full list of funded organisations from across England below:
Funding to help support victims of domestic abuse 2015 to 2016: successful bids (MS Excel Spreadsheet, 18.8KB)
Also announced at the Summer Budget was a review of the full range of services currently available to victims of domestic abuse.
Its findings fed into the Spending Review and will inform an updated Violence Against Women and Girls strategy to ensure that victims of domestic violence and their families have access to the support and services they need to keep safe.
Further information
The Budget Statement announced a total additional funding of £3.2 million for victims of domestic abuse, made up of: £3.07 million for the Domestic Abuse Fund in 2015 to 2016 and £131,000 in 2015 to 2016 for additional workers for the UK Refuges Online. We have received a large number of high quality bids and managed to allocate a further £470,000 to support them, bringing the total spent on the bids to £3.54 million.
As well as the additional funding, domestic abuse is a major priority for the government's Troubled Families programme. The focus on tackling domestic violence and abuse has been increased in the new expanded programme.
Last year the coalition government announced a new £10 million government fund to help support refuges across the country and boost provision for vulnerable victims of domestic violence.
This built on steps taken by the government to end domestic violence, support victims and ensure offenders are prosecuted. These include:
£40 million for Violence Against Women and Girls support services and specialist helplines
new laws and powers - including a new domestic abuse offence to capture coercive and controlling behaviour, the criminalisation of forced marriage, and the introduction of new stalking laws
the national roll-out of domestic violence protection orders and the domestic violence disclosure scheme
Office address and general enquiries
2 Marsham Street
London
SW1P 4DF
Contact form http://forms.communiti...
General enquiries: please use this number if you are a member of the public 030 3444 0000
Published 11 December 2015