35 Engineer Regiment beat the clock to build Helmand checkpoint
British soldiers have built a checkpoint in record time to help stop the movement of insurgents in Helmand province, Afghanistan.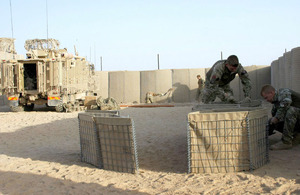 Just eight sappers from 35 Engineer Regiment worked at full-speed to build Checkpoint Khaki in just three days to help stop the Taliban moving along part of Route 601, a major highway in the Lashkar Gah district.
Until now this stretch of highway has not been monitored by the Afghan National Police (ANP), allowing insurgents the freedom to use the road, but the ANP put in a call for help to build the checkpoint to allow them to crack down on insurgents' movements.
The operation was planned by Afghan Police Precinct Commander Mohammad Mir together with British troops.
The sappers pulled out all the stops to beat the four-day deadline for the build - and just 72 hours later, after building through the night and day, the checkpoint (CP) was ready for use.
The troops were protected during the operation by Warrior armoured fighting vehicles from B Company of 5th Battalion The Rifles (5 RIFLES).
Corporal Damian Monks is the commander of the section of sappers from 29 Armoured Engineer Squadron, part of 35 Engineer Regiment, who carried out the build.
Corporal Monks said the tight timeline drove the tight-knit team to get the job done even quicker.
He said:
We were told that we needed to pull out all the stops to get it done in four days, but that just motivated us to get it done in three.
The boys worked really hard, even in the midday heat, which made it very easy from my point of view. It was also good to know that the infantry boys from 5 RIFLES had our backs so we could concentrate on the job in hand.
Captain Anthony Gleave, from 35 Engineer Regiment, said the quick build meant troops from B Company, 5 RIFLES, and the ANP could move in ahead of schedule to provide security and pressure the insurgents.
Battle Group Engineer Captain Gleave works with the Queen's Royal Hussars Battle Group to determine urgent tasks for the engineers.
He said:
It is no mean feat for a section of eight Royal Engineers and one corporal to complete the build so quickly, made all the more rewarding by the importance of the project.
The Taliban are already on the back foot in Lashkar Gah and CP Khaki will assist the Afghan National Police in tightening the noose.
Published 29 November 2011