Press release
33,000 new homeowners thanks to the Right to Buy
More than 33,000 new homeowners have been created through the reinvigorated Right to Buy since 2012.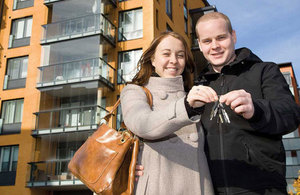 More than 33,000 new homeowners have been created through the reinvigorated Right to Buy since 2012, and £2.4 billion is being raised in new affordable housing investment as a result, figures show today (24 February 2015).
Housing Minister Brandon Lewis welcomed the news as a further sign of how government action is helping people get on and move up the housing ladder.
He announced that Right to Buy discounts will increase again in April 2015, so more people have the chance to buy their home. Right to Buy eligibility is also being extended through a new law before Parliament.
Council house building starts are now at a 23 year high and almost twice as many council homes have been built in the last 4 years than from 1997 to 2009. Previously, councils were not encouraged to build new homes from sales receipts and only 1 new council home was built for every 170 Right to Buy sales completed.
Since the Right to Buy was reinvigorated, £730 million in sales receipts is being re-invested in house building; levering a further £1.7 billion of investment over the next 2 years. This means that in total, over £2.4 billion will be raised to invest in affordable house building as a result of the as a result of Right to Buy.
Housing Minister Brandon Lewis said:
The Right to Buy gives something back to families who worked hard, paid their rent and played by the rules. It allows them to do up their home, change their front door, improve their garden – without getting permission from the council. It gives people a sense of pride and ownership not just in their home, but in their street and neighbourhood.

Thanks to this government's long-term economic plan, we have created over 33,000 homeowners through the Right to Buy, which is expected to generate £2.4 billion of additional investment in new affordable housing. Twice as much council housing has been built under this government than in all 13 years of the last administration combined, when just 1 council home was built for every 170 Right to Buy sales.
Further information
Since 2010, nearly 192,000 people have bought or reserved a new home through government-backed schemes, including Right to Buy.
In the 3 months to December, 3,285 people bought their home under the Right to Buy – a 15% increase during the same period in the previous year.
Currently, tenants can benefit from a discount of up to £77,000 outside of London and £102,700 in the capital; they need to have been in council housing for 5 years before being eligible for the scheme.
From April 2015, these maximum discounts will go up in line with inflation, to £77,900 outside of London and £103,900 in the capital. Measures in the Deregulation Bill currently before Parliament mean tenants will have a Right to Buy after 3 years in council homes, undoing changes to eligibility introduced in legislation under the last administration.
The government has also taken steps this week to allow councils to pool their Right to Buy receipts, to help maximise the number of new affordable homes.
In total, nearly 217,000 new affordable homes have been delivered in England since 2010.
The latest Right to Buy sales figures are published today.
Office address and general enquiries
2 Marsham Street
London
SW1P 4DF
Contact form http://forms.communiti...
General enquiries: please use this number if you are a member of the public 030 3444 0000
Published 24 February 2015