News story
£300 million savings for business from better regulation
UK business could save £300 million each year through planned improvements to environmental, agricultural, water and marine regulation.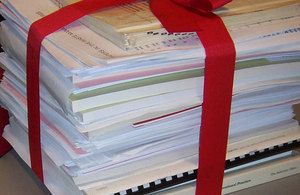 'Defra: Better for Business', published by the Department for the Environment, Food and Rural Affairs (defra), confirms plans for 336 regulatory reforms, which aim to ensure the UK's very high welfare, environmental and food quality standards are upheld and remove unnecessary regulatory burden on business. The main developments can be viewed here on an infographic.
The changes are expected to save business £300 million each year, or £1.5 billion over five years – an increase on previously estimated savings of £1 billion. The savings are expected to represent a third of all savings to business coming from planned government reforms to regulation through its Red Tape Challenge initiative and include:
guidance on how to comply with environmental legislation will be much easier to follow, after being reduced by 80% in volume;
Defra aims to reduce the time spent by businesses reporting information to the department and its regulatory bodies and agencies by 20%, saving business some 850,000 working hours by April 2016; and
the department and its nine agencies, which include the Environment Agency and Marine Management Organisation, plan to consolidate legislation, reducing the overall number of regulations by 20% since 2011.
Secretary of State for the Environment, Food and Rural Affairs, Owen Paterson said:
I am determined to see less regulation but better regulation – the same high standards, but rules that are much clearer and easier to use. For the overwhelming majority of organisations behaving responsibly, I want to get out of their hair and let them get on with it.

That is the best way of ensuring small businesses prosper, bringing security, jobs and growth. It also gives us in government more time to focus on the 'bad guys', that small number who break the rules causing disproportionate harm.
Peter Young, Chairman of Aldersgate Group - an alliance of leaders from business, politics and society interested in a sustainable economy, said:
The Defra approach has embraced the opportunity to deliver streamlined, more effective regulation. In so doing the environment can be better safeguarded and business growth is enabled.
Lucy Smith, Environmental Manager, UK Steel said:
This is not about avoiding responsibility but about being more efficient in the way we do things and making it simpler to engage and comply… The new consultation system makes the task of responding to a consultation much more appealing. It is a much simpler approach… The practical navigation of legislation.gov.uk lends itself well to the time stretched Environmental Manager. The addition of Defralex to this system will improve this navigation even further. All we need now is for other departments to follow suit!
Richard Betton, a farmer from County Durham, said:
I am the Event Organiser for two local sheep shows in Teesdale. This used to require filling out three forms and over twenty pages each year to obtain a licence. This year it is a one sided form with a box to tick to say that everything will remain the same. Well done the AHVLA: it can be done.
The Department for the Environment, Food and Rural Affairs also launched a prototype online regulations portal – the first for central government. Once complete, 'DefraLex' will be a comprehensive database of the department's regulations, improving the transparency of laws and making it easier for people to keep up-to-date with changes.
The department also plans to simplify the way businesses report information by, for example, using digital technology. There will also be a new drive to streamline inspections for businesses and farms.
The department published its plans as an independent group chaired by former National Farmers Union Director General, Richard Macdonald, said that the government had made significant progress in its better regulation agenda for farmers.
A report published by the Farming Regulation Task Force Implementation Group, chaired by Richard Macdonald, said that the government had cut unnecessary red tape whilst maintaining the UK's very high welfare, environmental and food quality standards.
Richard Macdonald, said:
The government has made significant progress following our initial recommendations. It has put in place the foundations of a good structure and strategy to deliver on-going regulatory improvements, which benefit both the farmer and regulators.
Changes to farming requirements include the introduction of new electronic reporting for sheep and goats from this month which will deliver savings to the farming industry of around £500,000 over 10 years.
Published 10 April 2014