Press release
£30 million investment in health research centre to tackle major diseases
A new cutting edge research centre at the University of Oxford receives £30 million of government and private investment.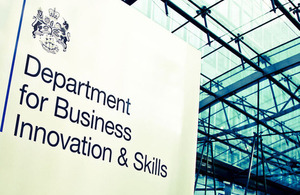 The UK's world-leading medical science base has been boosted by £30 million of government and private investment in a new cutting edge research centre at the University of Oxford, Prime Minister David Cameron announced today.
The Big Data Institute will capture and analyse extensive sets of health data for the detection, monitoring, treatment and prevention of a broad range of conditions from cancer, diabetes, stroke and high blood pressure through to pathogens and infectious diseases, such as malaria and influenza. The project has received £10 million under the second round of the UK Research Partnership Investment Fund (UK RPIF), matched by a further £20 million donation from the Li Ka Shing Foundation.
The investment marks the second phase of the £90 million Li Ka Shing Centre for Health Information and Discovery, launched by the Prime Minister David Cameron and Sir Ka-shing Li today and set to be a world leader in high tech, computer-driven medical research. The first phase, the Target Discovery Institute, received £10 million from the first round of UK RPIF. This will use high throughput biology to define better drug targets in collaboration with industry.
The Prime Minister said:
I am delighted to be backing our medical science sector and supporting the Li Ka Shing Centre for Health Information and Discovery, which has the potential to revolutionise medical research and healthcare in this country and beyond.
The Li Ka Shing Centre for Health Information and Discovery will pioneer new advances in the analysis of medical data which can help scientists to better understand human disease and its treatment.
This will help to further develop a strong and competitive science and research base in this country which is vital for the UK to compete and thrive in the global race.
Minister for Universities and Science David Willetts said:
This cutting edge centre reinforces the UK's position as a world leader in medical research and life sciences. Through harnessing the unique health data we have in the UK we can discover new insights into diseases and develop groundbreaking personalised drugs and technologies, driving growth and bringing benefits to patients.
This project yet again shows that charities and businesses want to collaborate with our excellent universities to tackle global challenges like public health. It builds on the £100 million announced by the Prime Minister for DNA mapping for patients with cancer and rare diseases, and will keep the UK ahead in the global race for better treatments and care.
Digital technology has allowed the analysis of large complex datasets to transform many areas of our lives but is only beginning to be applied to medical science. This new centre will create a focus for this emerging field of research in the UK, helping to transform thinking about disease, treatment of patients, monitoring disease prevalence and management of healthcare systems. It will also provide commercial and academic opportunities to drive research in the UK and globally.
This is the 15th project funded under UK RPIF. To date the fund has leveraged £635 million of additional investment in UK universities from private sources. The projects will develop new knowledge to support economic growth.
UK RPIF is administered by the Higher Education Funding Council for England (HEFCE). It was first launched with £100 million of public finance in May 2012. In response to the large number of high-quality bids the government tripled the public support to £300 million in autumn that year. All projects have to include private funding from industry or the charitable sector worth a minimum of double the public contribution – making more than £1 billion of investment in total. The second call for projects closed in February 2013 and further successful projects will be announced in due course.
Notes to editors
to create the most competitive tax system in the G20
to make the UK the best place in Europe to start, finance and grow a business
to encourage investment and exports as a route to a more balanced economy
to create a more educated workforce that is the most flexible in Europe.
Work is underway across government to achieve these ambitions, including progress on more than 250 measures as part of the Growth Review. Developing an Industrial Strategy gives new impetus to this work by providing businesses, investors and the public with more clarity about the long-term direction in which the government wants the economy to travel.
Published 3 May 2013