3 YORKS takes control of Nahr-e Saraj
Nahr-e Saraj district is one of three in Helmand where British troops are deployed, and the last where Task Force Helmand retains the lead for…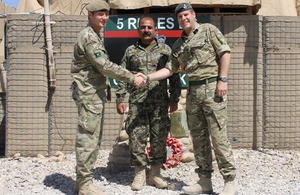 Nahr-e Saraj district is one of three in Helmand where British troops are deployed, and the last where Task Force Helmand retains the lead for security after the successful transition of Nad 'Ali and Lashkar Gah to Afghan control.
At a ceremony held in the centre of Patrol Base 2 on Sunday morning, the flag of 5th Battalion The Rifles (5 RIFLES) was lowered and replaced with that of 3rd Battalion The Yorkshire Regiment (3 YORKS).
After the playing of the bugle, the outgoing Commanding Officer (CO), Lieutenant Colonel Tom Copinger-Symes, shook hands with the incoming CO, Lieutenant Colonel Zac Stenning, to signify the official hand over of control of the district from one battle group to the other.
The handover signifies the beginning of the six-month operational tour for the 3 YORKS Battle Group, who are due to return to the UK in November 2012.
5 RIFLES are currently returning to their home base in Paderborn, Germany.
Lt Col Copinger-Symes said:
5 RIFLES have had a successful and, dare I say it, enjoyable tour as Combined Force Nahr-e Saraj (South), supported by a huge variety of ISAF capabilities and in firm partnership with our brothers in the ANSF [Afghan National Security Forces].

We have been fortunate to see great progress, largely the product of our predecessor's good work. We all wish 3 YORKS every success and good fortune in taking forward transition in the Nahr-e Saraj district.
Lt Col Stenning said:
We are deeply indebted to 5 RIFLES for their hard work and endeavours over the past six months. We have been gifted the perfect start, especially with regards to the excellent relationships that have been formed with the Afghan National Security Forces.

We look forward to continuing the mission this summer in support of the Afghan National Security Forces and continuing working towards transition.
Published 1 May 2012