3 YORKS receive Afghanistan medals
Soldiers from 3rd Battalion The Yorkshire Regiment (3 YORKS) received their Op HERRICK medals on Friday 9 July 2010 in recognition of the part they have played in Afghanistan over the last year.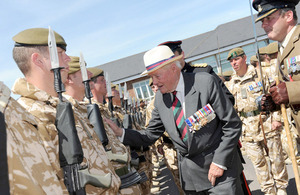 The 222 personnel from 3 YORKS, based in Warminster, were deployed in a variety of roles between July 2009 and April 2010.
The medals were presented by His Grace The Duke of Wellington at Battlesbury Barracks, watched by colleagues, family and friends.
The parade also recognised the ultimate sacrifice made by some of the soldiers on this tour of duty.
Private Johnathon Young was killed in action in Afghanistan on 20 August 2009, while Corporal Liam Riley and Lance Corporal Graham Shaw were both killed by improvised explosive devices on the same patrol on 1 February 2010.
The parade marked the end of a year-long commitment to operations by the battalion:
The contribution made by the soldiers of the 3rd Battalion The Yorkshire Regiment this past year to reinforce the battle groups in Helmand has been immense," said Lieutenant Colonel Tom Vallings, the Commanding Officer of 3 YORKS.
Each and every soldier receiving their medal today should be most proud of their unique and special contribution to operations in Helmand.
3 YORKS was tasked to provide soldiers as battle casualty replacements in July 2009 to serve with 19 Light Brigade in Helmand province.
The focus of this deployment was Burma Company, who deployed only two weeks later and were immediately involved in the high-profile summer offensive against the Taliban known as Operation PANTHER'S CLAW.
They performed the vital and challenging role of replacing troops in a number of different units across Helmand, all of whom had lost soldiers through death or injury. Burma Company returned to Warminster in early November 2009.
The battalion's commitment to operations continued through until the last soldiers returned from Afghanistan in late April 2010.
Many of these had deployed for six months, having first deployed in November 2009.
Although they were deployed on a variety of tasks throughout Helmand province, many of them formed part of the 'Mastiff Group', operating in the Babaji region in the heavily armoured Mastiff protected mobility vehicle.
They undertook essential tasks such as transporting troops and protecting large convoys as well as directly engaging the Taliban with their advanced weapons systems.
Other soldiers were split across the region performing a variety of tasks including once again acting as battle casualty replacements.
All these soldiers played a key role in the recent Operation MOSHTARAK, during which they were responsible for improving security and quality of life for the Afghan people.
Published 12 July 2010