News story
£3 million awarded to English museums
DCMS and the Wolfson Foundation announce grants for museums and galleries across England.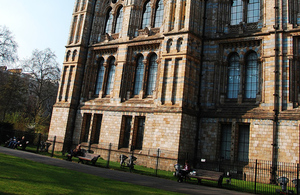 25 museums across the length and breadth of England will benefit from grants worth £3 million, Culture Secretary Sajid Javid announced today while visiting the Canal & River Trust's Gloucester Waterways Museum.
The grants, jointly funded by the Department for Culture, Media and Sport and the Wolfson Foundation, are designed to fund renovation and improvement projects in museums and galleries, to increase access and enhance the display of exhibits.
Some of the projects receiving funding include:
£100,000 to Gloucester Waterways Museum for 'From Birmingham to the Sea' exhibition.

A grant of £160,000 for redevelopment of IWM Duxford American Air Museum.

£100,000 going to the renovation of Lapworth Museum of Geology.

Luton Culture Service Trust to receive £217, 792 for the redevelopment project at Wardown Park Museum.

Museum of Zoology at Cambridge University to receive £200,000 for its Wonders of the Animal Kingdom exhibition.

A grant of £100,000 for the Tank Museum in Bovington for its Tank 100 project.

The Tullie House Museum and Art Gallery in Carlisle to receive funding of £51,450 for its Vikings Revealed exhibition.
To view the full breakdown of the museums and galleries receiving funding please view our google map
Culture Secretary Sajid Javid said:
The Government is committed to supporting the arts and making sure our marvelous museums and inspiring galleries continue to be accessible to all. Thanks to the generosity of the Wolfson Foundation our cultural destinations in communities across the country are going from strength to strength and remain much loved places to visit and explore.
Paul Ramsbottom, Chief Executive of the Wolfson Foundation said:
This partnership between the Wolfson Foundation and DCMS is an exemplar of how a charity and government can work together. We are delighted to be funding so many wonderful projects across the length and breadth of the country. The country's museums and galleries continue to be an inspiration.
Follow the conversation on twitter using #DCMSWolfson
Join in the #MeetTheCurator Twitter chat
Between 2 and 3pm today we are hosting a #MeetTheCurator Twitter chat, where you can hear from curators leading on projects announced today.
We'll be hearing from:
2pm: Louise Devoy, Curator of Royal Observatory Greenwich (@ROGAstronomers)

2.20pm: Dr Ashley Cooke, Liverpool Museums Head of Antiquities & Curator of Egyptology (@world_museum)

2.40pm: Tim Padley - Curator of Archaeology, Tullie House Museum & Art Gallery Trust (@TullieHouse)
Join in on twitter by following @DCMS and the #MeetTheCurator hashtag.
Published 27 February 2015