3 Commando Brigade to replace 16 Air Assault Brigade in Helmand
3 Commando Brigade Royal Marines will replace 16 Air Assault Brigade in April 2011 as the lead formation of British troops in Helmand province, Defence Secretary Dr Liam Fox has announced this week.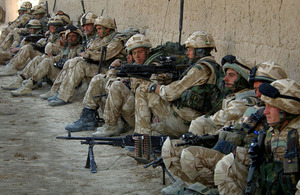 The deployment of 3 Commando Brigade and accompanying units will not result in any change to the UK's established and enduring conventional force level of 9,500 personnel.
Volunteer and ex-Regular members of the Reserve Forces will continue to deploy to Afghanistan as part of this integrated force package, and we expect to issue around 786 call-out notices to fill some 676 posts.
On completion of their mobilisation procedures, the reservists will undertake a period of training and, where applicable, integration with their respective receiving units.
The majority will serve on operations for around six months. As part of this commitment, we expect up to 19 members of the Sponsored Reserves to be in theatre at any one time.
Following 3 Commando Brigade's deployment it is planned that 20th Armoured Brigade will take over.
The forces deploying with 3 Commando Brigade include:
3 Commando Brigade Headquarters, Royal Marines
Elements of 30 Commando Information Exploitation Group, Royal Marines
Elements of the Royal Navy forming Headquarters Joint Force Support (Afghanistan), including members of the Maritime Reserve
Headquarters, 104 Logistic Brigade
Elements of 7 Armoured Brigade Headquarters and Signal Squadron (207)
42 Commando Royal Marines, including members of the Maritime Reserve
45 Commando Royal Marines, including members of the Maritime Reserve
Commando Logistic Regiment, Royal Marines
Elements of the Royal Navy forming the in-theatre Medical Regiment and Field Hospital
Elements of 845 Naval Air Squadron, including members of the Maritime Reserve
Elements of 846 Naval Air Squadron
Elements of 847 Naval Air Squadron
Elements of 857 Naval Air Squadron, including members of the Maritime Reserve
Elements of 854 Naval Air Squadron
Elements of the Royal Naval Regulators
Elements of 3rd Regiment Royal Horse Artillery
Elements of The Royal Scots Dragoon Guards (Carabiniers and Greys)
Elements of 9th/12th Lancers (Prince of Wales's)
29 Commando Regiment Royal Artillery
Elements of 5th Regiment Royal Artillery
Elements of 12th Regiment Royal Artillery
Elements of 16th Regiment Royal Artillery
Elements of 26th Regiment Royal Artillery
Elements of 32nd Regiment Royal Artillery
Elements of 39th Regiment Royal Artillery
Elements of 47th Regiment Royal Artillery
24 Commando Engineer Regiment
Elements of 12 (Air Support) Engineer Group
Elements of 22 Engineer Regiment
Elements of 28 Engineer Regiment
Elements of 32 Engineer Regiment
Elements of 36 Engineer Regiment
Elements of 42 Engineer Regiment (Geographic)
Elements of 101 (City of London) Engineer Regiment (Explosive Ordnance Disposal)
Elements of 170 (Infrastructure Support) Engineer Group
Elements of 3rd (UK) Division Headquarters and Signal Regiment
Elements of 10th Signal Regiment
Elements of 14th Signal Regiment (Electronic Warfare)
Elements of 21st Signal Regiment (Air Support)
Elements of 22nd Signal Regiment
4th Battalion The Royal Regiment of Scotland
3rd Battalion The Mercian Regiment
2nd Battalion The Royal Gurkha Rifles
1st Battalion The Rifles
Elements of 1 Regiment, Army Air Corps
Elements of 3 Regiment, Army Air Corps
Elements of 2 Logistic Support Regiment, The Royal Logistic Corps
Elements of 9 Regiment, The Royal Logistic Corps
Elements of 11 Explosive Ordnance Disposal Regiment, The Royal Logistic Corps
Elements of 17 Port and Maritime Regiment, The Royal Logistic Corps
Elements of 23 Pioneer Regiment, The Royal Logistic Corps
Elements of 24 Postal Courier and Movement Regiment, The Royal Logistic Corps
Elements of 27 Regiment, The Royal Logistic Corps
Elements of 29 Postal Courier and Movement Regiment, The Royal Logistic Corps
2 Close Support Battalion, Royal Electrical and Mechanical Engineers
Elements of 7 Air Assault Battalion, Royal Electrical and Mechanical Engineers
Elements of 101 Force Support Battalion Royal Electrical and Mechanical Engineers
Elements of 104 Force Support Battalion Royal Electrical and Mechanical Engineers
Elements of 5th Regiment Royal Military Police
Elements of 111 Provost Company Royal Military Police
Elements of 114 Provost Company Royal Military Police
Elements of Special Investigations Branch United Kingdom
Elements of 1 Military Working Dogs Regiment
Elements of 1 Military Intelligence Brigade
Elements of the Military Stabilisation Support Group (MSSG)
Elements of 6th Battalion The Royal Regiment of Scotland (Volunteers)
Elements of 4th Battalion The Mercian Regiment (Volunteers)
Elements of 6th Battalion The Rifles (Volunteers)
Elements of 88 Postal and Courier Regiment (Volunteers), The Royal Logistic Corps
Elements of 151 (London) Transport Regiment (Volunteers), The Royal Logistic Corps
Elements of 158 (Royal Anglian) Transport Regiment (Volunteers), The Royal Logistic Corps
Elements of 162 Movement Control Regiment (Volunteers), The Royal Logistic Corps
Elements of 166 Supply Regiment (Volunteers), The Royal Logistic Corps
Elements of 148 Expeditionary Force Institute Squadron (Volunteers), The Royal Logistic Corps
Elements of 383 Commando Petroleum Troop (Volunteers), The Royal Logistic Corps
Elements of 395 Air Despatch Troop (Volunteers), The Royal Logistic Corps
Elements of 102 Battalion (Volunteers), Royal Electrical and Mechanical Engineers
Elements of the Military Provost Staff and Military Provost Staff (Volunteers)
Elements of the Royal Auxiliary Air Force
Number 6 Royal Air Force, Force Protection Wing Headquarters
Elements of HQ Royal Air Force Police Wing
58 Squadron, Royal Air Force Regiment
617 Squadron, Royal Air Force
31 Squadron, Royal Air Force
Elements of 5 (Army Co-operation) Squadron, Royal Air Force
Elements of 18 Squadron Royal Air Force
Elements of 24 Squadron Royal Air Force
Elements of 27 Squadron Royal Air Force
Elements of 28 Squadron Royal Air Force
Elements of 30 Squadron Royal Air Force
Elements of 78 Squadron Royal Air Force
Elements of the Tactical Supply Wing, Royal Air Force
Elements of 1 Air Mobility Wing, Royal Air Force
Elements of 1 Air Control Centre, Royal Air Force
Elements of 90 Signals Unit, Royal Air Force
Elements of 2 (Mechanical Transport) Squadron, Royal Air Force
Elements of 5001 Squadron, Royal Air Force
Elements of 3 Mobile Catering Squadron
Elements of Tactical Medical Wing
Elements of 1 (Expeditionary Logistics) Squadron
Elements of 93 (Expeditionary Armaments) Squadron
Elements of Tactical Imagery Wing
Elements of Joint Ground Based Air Defence
Elements of Defence HUMINT Unit
Elements of the Joint Support Chain Services
Published 17 December 2010