3,000 Afghan Police recruits now graduated from UK-run training centre
The first Afghan Uniformed Police (AUP) Officers have graduated from the British-run Regional Training Centre (South West) [RTC(SW)] in Helmand province, which has now passed out its 3,000th recruit.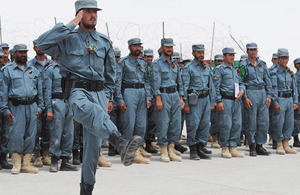 The ten officers passed out in a ceremony in front of the Provincial Chief of Police and a number of local elders.
They were joined by 158 newly-graduated AUP patrolmen who now make up over 3,000 recruits that have completed training at the RTC(SW), which was established in 2009 to provide formalised training for the AUP.
All have completed an intensive eight-week course at the RTC(SW), which is currently being run by 2nd Battalion The Royal Gurkha Rifles (2 RGR) who work alongside MOD Police Advisors and members of the Royal Military Police to give the recruits a fully rounded education.
This education involves a mixture of green (military) and blue (policing) lessons such as weapons training, first aid, traffic law and crime scene management.
The recruits also receive literacy training from Afghan teachers and are familiarised with the Afghan constitution and rule of law. Afghan Ministry of Interior trainers also play a role instructing and advising the recruits.
The officers' course takes these lessons to a higher level and includes aspects such as planning exercises and leadership - skills that are required for a police officer's role in an environment characterised by insurgency.
At the ceremony, the students showed off their policing skills in demonstrations during which they tackled an alleged suicide bomber and dealt with the threat posed by suspected IEDs.
This was followed by a ceremonial parade during which the top 13 students proudly received certificates recognising their excellent progress during the course.
The Provincial Chief of Police, General Hakim Angar, attended the ceremony. He said:
This was a very impressive event. I can see the recruits are very disciplined and they will be very good at their jobs. When they go back to their checkpoints and their neighbourhoods, the people will see they have got a professional police force.
Lieutenant Colonel Fraser Rea, Commanding Officer of 2 RGR, said:
To get the blend of training right is really important. We try to involve all the Afghan police at every level of the training. There are some big challenges in Helmand and we're hoping to give these new officers the best chance of success out there.

But the training does not end now. We are going to follow them as they deploy on the ground, and we'll be supporting them every step of the way.
The 158 newly-trained policemen will now be deployed across Helmand province with the task of providing added security in the urban centres, while the Afghan National Army continue to provide security and deter the insurgent threat in the rural areas.
Lt Col Rea added:
It's massively important that we hand over to the Afghans as soon as possible. It's all part of our plan for success in Helmand.

These guys are more than happy to continue on their own. Over the next two years you'll see all the training handed over to the Afghans, with our forces taking steps further and further back.
Published 10 May 2011