2nd Royal Tank Regiment settling into life in Helmand
The soldiers from the 2nd Royal Tank Regiment (2 RTR) have been patrolling Helmand for nearly a month. Although the conditions are hot, dusty and hostile, the Tankies have already served in Afghanistan, Iraq, Kosovo, Bosnia and Northern Ireland, so are used to tough environments.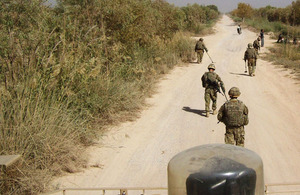 2 RTR is the oldest tank unit in the world having been at the forefront of armoured warfare since the first tanks broke through German trenches at Cambrai, France, in 1917.
Today the Regiment is still taking the fight to the enemy using the newest vehicles in the British armoury and showing the insurgents what their motto - 'Fear Naught' - really means.
Corporal James Excell last deployed to Afghanistan in 2006 and has seen some profound changes since his last visit::
Afghanistan has definitely changed - Lashkar Gah, the capital of Helmand province, was much more violent back when I was last here," he said. "The locals have changed their attitude towards us and they're a lot more positive than last time.
In population terms, Lashkar Gah sits somewhere between Portsmouth and Plymouth, but that is where the similarities end.
Mastiff driver Trooper John 'Eddie' Edwards said:
It's very different from anywhere I've been before - everywhere seems like a market, everybody's in the street constantly and there are people coming from all directions.
Lance Corporal Lamb is a gunner and helps Trooper Edwards manoeuvre the vehicle by describing what he can see from high up in the turret.
He said Lashkar Gah is an interesting place to be:
It seems a very busy town, there's a thriving economy and plenty to watch.
But the lads say that with all this activity comes a distinctive smell. LCpl Lamb added:
It's not so bad in the city but in the markets and alleyways it's pretty disgusting - you have to hold your breath sometimes.
Most of the security for Lashkar Gah is supplied by the Afghans themselves these days and the Tankies will spend the next six months working alongside the Afghan Security Forces to provide security to the Afghan people across the rest of the province.
Lieutenant Daniel Berry said:
You've got to hand it to the people here - they're scraping an existence out of the place and they're very tough. Alongside these people we fight the insurgency on a daily basis, always in the thick of the battle and often without rest.
2 RTR is based near Stonehenge in Wiltshire and recruits its men from the South West and South East of England and is proud to think of itself as 'Southern England's Armour'.
The Tankies will return from Afghanistan in April 2011.
Published 4 November 2010