28 day pre-charge bail limit comes into force
Government introduces new pre-charge bail limit of 28 days as part of the Policing and Crime Act, which comes into effect today (Monday 3 April).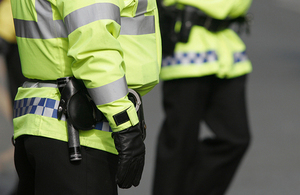 The government today brings an end to the injustice of people being left to languish on very lengthy periods of pre-charge bail, by introducing a limit of 28 days.
The limit is one of several measures taking effect today introduced through the Policing and Crime Act 2017 which will rebalance the police's use of bail in the interests of fairness.
Home Secretary Amber Rudd said:
Pre-charge bail is a useful and necessary tool but in many cases it is being imposed on people for many months, or even years, without any judicial oversight - and that cannot be right.

These important reforms will mean fewer people are placed on bail and for shorter periods. They will bring about much-needed safeguards – public accountability and independent scrutiny – while ensuring the police can continue to do their vital work.
Pre-charge bail, also known as police bail, enables those under investigation to be released from custody, potentially subject to conditions, while officers continue their enquiries.
In late 2014, the then-Home Secretary consulted on measures to limit the use of pre-charge bail, as well as supporting changes such as allowing the police to release low-risk suspects without bail while an investigation continues. Through the Policing and Crime Act, the government has now adopted the model endorsed by the public consultation.
Under the measures taking effect today it will still be possible for police to secure an extension beyond the initial 28-day bail period where it is appropriate and necessary, for example in complex cases. One extension of up to 3 months can be authorised by a senior police officer at superintendent level or above.
In exceptional circumstances, where the police need to keep an individual on bail for longer, they will have to apply to a magistrate for further bail.
In addition, bail will now only be used when it is necessary and proportionate. Where it is not, there will be a presumption that people will be released without bail.
Minister for Policing and the Fire Service Brandon Lewis, said:
We needed to rebalance this system for the benefit of all concerned. Today's changes will bring an end to those long periods of bail without any independent oversight that we have seen in the past.

Police officers will keep on doing their crucial work. But now anyone on pre-charge bail will have their case reviewed regularly and independently. That's the right thing to do and I thank the police for their swift and efficient work in preparing for these new rules.
The College of Policing has helped police forces and officers prepare for the new rules and will continue to play a leading role in guiding them through the practical implications of the new regime.
As part of the Policing and Crime Act, a number of other provisions were also introduced today. These include introducing a duty to collaborate between police forces and fire and rescue authorities, PCC-style fire and rescue authorities and the banning of pyrotechnic articles at musical events.
Published 3 April 2017