World news story
28 Argentines will study in the United Kingdom with Chevening scholarships
We welcomed at the Ambassador's Residence the group of young Argentines who were awarded Chevening scholarships.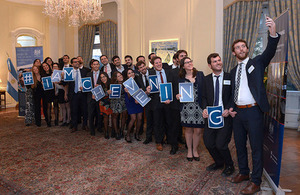 Argentina, Elizabeth Green, bids farewell to the 28 young Argentines who will leave for the United Kingdom to do their master's studies for a year.
Since 1991, more than 510 Argentines have been selected to participate in this prestigious program and today they successfully perform in different areas of government, private sector, academia, civil society and media.
The Chevening scholarships allow outstanding Argentine young leaders to carry out a postgraduate studies at a British university of their choice with all the expenses covered.
Applications to study during 2019/2020 are open until 6 November 2018 at http://www.chevening.org/apply
Complete list of 2018/2019 scholars
Macarena Acuipil – Social Policy – University of York
Maria Ahumada – Finance – London Business School, University of London
Bruno Ané – Public Policy – King's College London, University of London
Federico Azpiroz Costa - International Development (Poverty, Inequality and Development) - University of Manchester
Megan Ballesty - Public Administration and Management - UCL (University College London)
Brian Burstein - Law (General) - Queen Mary University of London
Rodrigo Castilla - International Health Policy (Health Economics) - London School of Economics and Political Science, University of London
Nicolás Cipriota - Entrepreneurship and Innovation - University of Sussex
Benjamin Cornejo Costas - Science and Technology Policy - University of Sussex
Paula Coto - Public Policy (evaluation) - University of Strathclyde Glasgow
Alejo Da Bouza - Petroleum, Energy Economics and Finance - University of Aberdeen
Maria Degl'innocenti Galeano - Service Design Innovation - Ravensbourne
Diego Deleersnyder - Local Economic Development - London School of Economics and Political Science, University of London
Micaela Duffau - Competition Law - Queen Mary University of London
Tomas Esper - Policy Studies in Education - UCL Institute of Education, University of London
Sebastián Ferreyra Romea – LLM - London School of Economics and Political Science, University of London
Milagros Gimenez - Public Management (Local Policy and Leadership) - University of Birmingham
Leandro Gorgal - Development Administration and Planning - UCL (University College London)
Maria de los Angeles Lasa – Public Policy – University of Oxford
Santiago Martorana - Big Data in Culture & Society - King's College London, University of London
Gianni Micheli - International Business Economics - University of East Anglia UEA
Catalina Muller - Power, Participation and Social Change - University of Sussex
Juan Pablo Osman Moreno – International Tax - King's College London, University of London
Ana Pecoraro - Human Rights Law - Queen Mary University of London
Carolina Pizzo - Innovation Management and Entrepreneurship - Middlesex University
Juan Roberts - Political Economy of Emerging Markets - King's College London, University of London
Pablo Ruffolo - Engineering Management - Brunel University London
Federico Teveles - Development Management - London School of Economics and Political Science, University of London
Published 31 August 2018