News story
£2.6 million funding for volunteers that support hospitals
Dedicated volunteers who give time to help patients have been recognised through a £2.6 million investment to grow and support their work.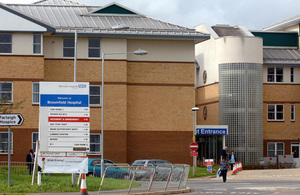 The funding boost will go to up to 14 projects that will provide extra help to hospitals by supporting older people during the busy winter months:
up to 8 groups will share £2 million to run projects that help older people stay healthy and recover quicker from illnesses through the Reducing Winter Pressures Fund
£600,000 will be given to 6 hospital groups to grow existing volunteer schemes that work to improve overall patient satisfaction through the Helping in Hospitals programme
With thousands of volunteers already giving their time for free to support local hospitals, the investment recognises the impact voluntary groups make. Services that use social action have shown strong potential in helping people to stay well, recover from illness or injury and improve the patient experience. This helps to reduce the growing pressure on hospitals.
The Royal Voluntary Service in the East Midlands who will grow its 'hospital to home' service. This service aims to help over 600 older people leaving hospital to recover, regain confidence and create social support networks so that they are less likely to be re-admitted.
Sheffield Teaching Hospitals NHS Foundation Trust will expand volunteer roles that they have been piloting by a third, to over 1,000 volunteers. They will introduce an 'on-call' role so that volunteers can respond to the most pressing needs across wards and departments.
The government and NHS England support innovative solutions that will ease the pressure on services like A&E and help the excellent work of paid staff across the hospital network.
Minister for Civil Society Brooks Newmark said:
I am pleased to announce the winners of these exciting new funds. Taken together, we believe that these projects will showcase the potential of social action to reduce hospital pressures and improve patient experience, and will be sustained into the long-term by local commissioners.
Vicki Sellick, Nesta Director, added:
We're delighted to support 6 hospitals to expand upon their volunteering service to increase the positive impact that volunteers can have on patients, friends and family.
Reducing Winter Pressures Fund
Cabinet Office and the National Tripartite group (NHS England, Monitor, the NHS Trust Development Authority and the Association of Directors of Adult Social Services) fund projects that use social action to help older people stay well, manage their conditions or recover from illness or injury, reducing pressure on hospitals. We aim to increase and test a small number of volunteer supported services over winter 2014 to 2015 to see what will work on a bigger scale. The Nuffield Trust will evaluate these projects.
Organisations that will receive funding as part of the programme are:
Westbank Community Health and Care (based in Devon)
Royal Voluntary Service (based in Leicestershire)
Age UK South Lakeland
Age UK Cornwall and Isles and Scilly
Age UK Oxfordshire
Age UK Leeds working with British Red Cross
British Red Cross Society (based in North Derbyshire)
Helping in Hospitals
Helping in Hospitals is part of the Centre for Social Action's £14 million Innovation Fund, funded by the Cabinet Office and run by Nesta.
During 2013 to 2014 and 2014 to 2015 the Centre for Social Action will invest around £40 million to support charities, public services and civil society organisations to mobilise people to take part in social action. The hospitals receiving funding will work closely with The Social Innovation Partnership for evaluation.
Hospitals that will receive funding as part of the programme, subject to Nesta's standard grant procedure, are:
Barts Health NHS Trust
Cambridge University Hospital NHS Foundation Trust
Derbyshire Community Health Services NHS Trust
Great Western Hospitals NHS Foundation Trust
Kingston Hospital NHS Foundation Trust
Sheffield Teaching Hospitals NHS Foundation Trust
Published 8 August 2014