26 Engineer Regiment receive Afghanistan operational medals
Soldiers from 26 Engineer Regiment, who returned home from Afghanistan at the end of September, received their Operational Service Medals on Friday 5 October 2012.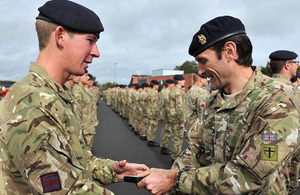 The regiment deployed to Helmand province as part of 12th Mechanized Brigade in March this year.
A total of 300 members of 26 Engineer Regiment received their Afghanistan campaign medals at Swinton Barracks in Perham Down from Lieutenant General Sir Mark Mans, Major General John Lorimer and Brigadier Ivan Jones. They were watched by a huge crowd of around 2,000 family members, friends and colleagues.
Amongst those receiving their medals was Lieutenant Melanie Birtwistle, aged 26, from Salisbury. She said:
It is absolutely fantastic and the most proud moment of my Army career so far, as it is what I joined the Army to do.
This was my first tour and a brilliant learning experience with many challenges, and something I will keep with me for the rest of my life.
The regiment fulfilled the role of Task Force Helmand Engineer Group on Operation HERRICK 16, providing infrastructure support including road repairs, patrol base upgrades and permanent bridge emplacements across the Helmand area of operations:
We did a lot of upgrades and improvements to security to make life better for the soldiers in austere conditions," explained Lieutenant Birtwistle.
Simple amenities so they could get on with their everyday lives, like a toilet, a wash area and somewhere to sleep - overall providing safety and more comfort.
During the tour 26 Engineer Regiment had an exceptionally high tempo of tasks in aid of transition. The regiment was instrumental in closing or handing over patrol bases and checkpoints as well as building a number of permanent bridges to boost the local economy.
The permanent bridge that 30 Armoured Engineer Squadron built at Patrol Base Folad in Nad 'Ali district gave locals better access to the local markets as well as giving the Afghan Police a platform from which to make the area more secure.
In addition the regiment regularly undertook tasks to improve roads and culverts as well as improving the lives of troops in patrol bases and checkpoints by upgrading the often basic facilities.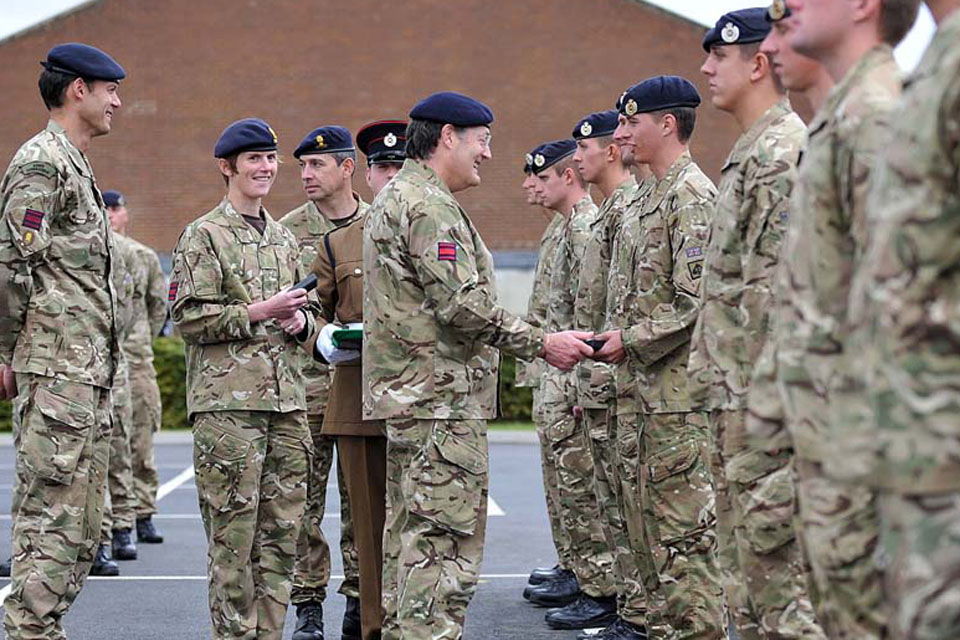 Lieutenant Colonel John Ridge, Commanding Officer of 26 Engineer Regiment, said:
I am incredibly proud of the achievements of the regiment as it did some extraordinary work. In terms of such things as the closure of bases as well as work to set up the Afghan security forces future laydown.
There were numerous challenges to be faced - the insurgents were a constant threat and the weather was extremely demanding on my men and women
Today is a great send-off for them in front of their families before well-earned leave following a tour in which they have done so well.
During the tour 26 Engineer Regiment lost one soldier, Lance Corporal Matthew David Smith, from 30 Armoured Engineer Squadron, who was killed in the Nad 'Ali district of Helmand province when he was hit by small arms fire on Friday 10 August 2012.
Lance Corporal Smith was remembered during the medal parade with a public tribute by Lieutenant General Mans.
Published 8 October 2012