£240 million social care investment to ease NHS winter pressures
The investment in adult social care this winter will help local authorities reduce pressures on the NHS by getting patients home quicker and freeing up hospital beds across England.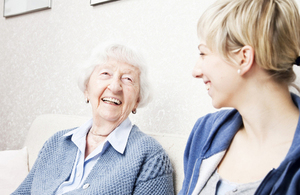 The extra funding, announced by Secretary of State for Health and Social Care Matt Hancock, is aimed at reducing delayed transfers of care and will be allocated to councils based on the adult social care relative needs formula.
The money could pay for one of the following:
more than 71,500 home care packages to help patients get out of hospital quicker
86,500 reablement packages, which support workers to help patients carry out everyday tasks and regain mobility and confidence
nearly 27,000 home adaptations, including new facilities for personal care, such as adapting a shower room if a patient has limited movement
The funding brings total government investment in the health and care system over winter to more than £420 million, which includes:
£145 million given to the NHS in September to boost winter resilience, which will go toward upgrading wards, redeveloping A&E departments and paying for an extra 900 beds

£36.3 million awarded to ambulance trusts in June to prepare for the colder months, which will go towards buying 256 new state-of-the-art ambulances
As announced in last year's budget, an additional £1.6 billion has been given to the service for 2018 to 2019. This investment will be used by the NHS to treat a quarter of a million more patients in A&E and to improve A&E performance.
Other actions being taken to boost support over the winter include:
ensuring extended access in primary care is in place across the country, with an additional 9 million appointments per year
rolling out NHS 111 Online nationwide
taking action to safely reduce ambulances conveying patients to hospital through increased 'hear and treat' and 'see and treat'
expanding the provision of 'same day' emergency care
setting an ambition to reduced long stays in hospital (over 21 days) by 25% to free up 4,000 beds
NHS leaders have also announced an ambition for all frontline workers to get the flu jab to protect patients as part of a comprehensive plan for this winter.
Matt Hancock said:
I want to help the NHS through this winter.

I have already provided funding for hospitals to make upgrades to their buildings to deal with pressures this winter, and I can announce that today I am making an extra £240 million available to councils to pay for social care packages this winter to support our NHS.

We will use this money to get people who don't need to be in hospital, but do need care, back home, back into their communities, so we can free up those vital hospital beds, and help people who really need it, get the hospital care they need.
Simon Stevens, NHS England Chief Executive, said:
Helping patients go home when they are ready is vital to easing pressure on the NHS, particularly busy A&E departments.

So, as the government develops a comprehensive social care funding solution, hospitals will rightly welcome this targeted funding to ease pressures on the NHS this winter by paying for extra care packages and care home places for frail older people.

Over the past 18 months, the NHS and councils have worked together to cut delayed discharges, freeing up 4 hospitals-worth of beds across England. This money will allow councils to build on that progress.
Published 2 October 2018