Press release
£23 million to build up enterprise zones will bring home more local jobs
Investment will bring more jobs to Bristol, Manchester, Great Yarmouth and Leicestershire.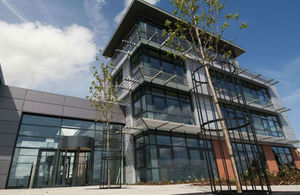 Local Growth Minister Kris Hopkins today (28 May 2014) announced that £23 million of essential infrastructure investment will bring more jobs to Bristol, Manchester, Great Yarmouth and Leicestershire as part of the government's long term economic plan.
The new money will be used to fund essential road, utility line and building construction vital for increasing business opportunities at enterprise zone sites.
Kris Hopkins announced the money on a visit to the famous MIRA Technology Park Enterprise Zone in Leicestershire to see how Enterprise Zone status is transforming what was once a small former government funded research centre into Europe's most advanced transport technology facility, which will employ more than 2,500 by 2021.
Kris Hopkins said:
Enterprise zones are showing that our long term economic plan to secure a better future is spreading businesses, jobs and skills training across the country.

Today's cash injection will give 4 zones the raw ingredients to make their sites a stronger, more competitive business environment that will attract new jobs for hardworking local people.

It was fascinating to see MIRA, 60 years on, developing the kind of ground-breaking technology that is putting Leicestershire and the UK at the forefront of the automotive industry.
The funding was the remaining part of a £550 million package of support for enterprise zones to complete critical 'nuts and bolts' infrastructure that will turn sites into prime economic land.
Since their start 3 years ago enterprise zones have created over 9,000 jobs, attracted over 300 businesses and secured £1.2 billion of private sector investment.
The infrastructure investment will fund:
Bristol Temple Quarter Enterprise Zone – awarded £6 million for commercial development in an around the new city centre
MIRA Technology Park Enterprise Zone – awarded £7.4 million for the construction of a new spine and distribution roads with a roundabout to increase access to the Hinckley site
Great Yarmouth and Lowestoft Enterprise Zone – awarded £3 million to deliver 5,700 square metres of speculative office and industrial units, as well as road and utilities for Beacon Park, Great Yarmouth
Manchester Enterprise Zone – awarded £6 million to open up key sites to attract companies in the healthcare and medical technology sectors
Further information
The 'Motor Industry Research Association' was a government funded body, created to boost Britain's automotive industry in the post-war period. Since it was created in 1946 it has grown into a highly customer-focussed, world class independent vehicle engineering consultancy. Since 2001, the company has been known as MIRA Limited.
Today – as a UK Enterprise Zone – the MIRA Technology Park provides employment for more than 800 within the MIRA organisation and the 30 transport-related companies from around the World. Employment numbers are continuing to increase year on year and forecasts indicate this will exceed 2500 by 2021.
With the arrival of enterprise zone status in 2011 MIRA launched its 1.75 million sq ft. technology park development. The enterprise zone status has given MIRA and MIRA Technology Park a wholly unique offer, and has enabled MIRA to attract internationally renowned businesses to the Midlands. Bosch Engineering, Lockheed Martin, Norgren, Ashok Leyland, Haldex and Triumph Motorcycles - among others - are all based at MIRA Technology Park.
MIRA's enterprise zone status has also had an effect on a global scale, too. Interest in MIRA Technology Park spans world-wide, and as a result there are a number of international businesses looking to relocate to MIRA Technology Park in the near future. In addition, funding has enabled MIRA Technology Park to seek international investors and undertake a substantial market research programme across 11 key markets including Japan, Korea, China, India, Germany, France, Turkey, Canada, USA, Mexico and Brazil; something that could not have previously been done.
Since becoming an enterprise zone, investments – in terms of real estate and on-site infrastructure – are in the region of £30 million so far.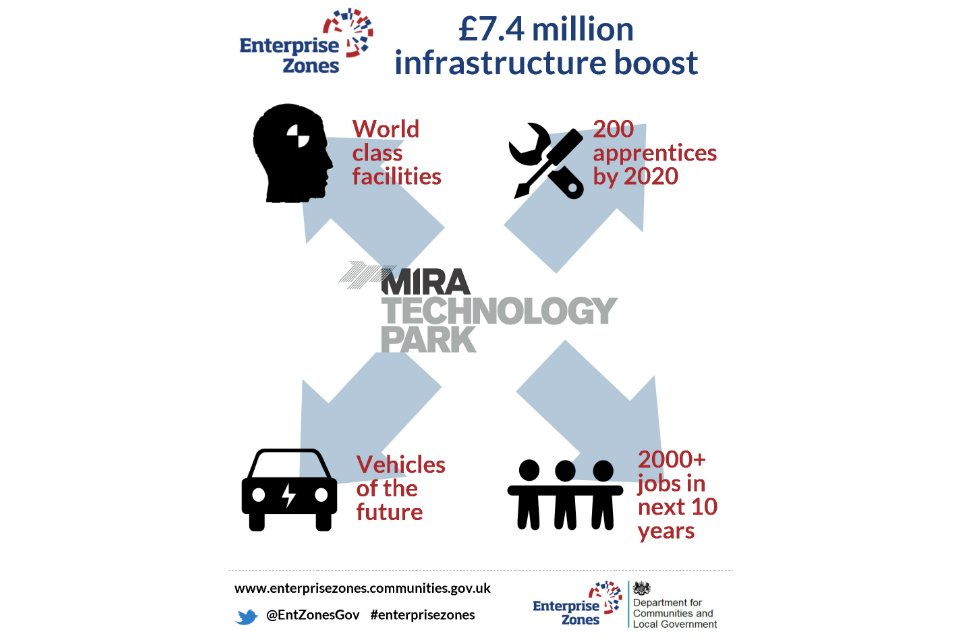 Photo courtesy of MiraTechnologyPark.com
Office address and general enquiries
2 Marsham Street
London
SW1P 4DF
Contact form http://forms.communiti...
General enquiries: please use this number if you are a member of the public 030 3444 0000
Published 28 May 2014