Press release
£22 million transport package for Ipswich gets go-ahead
Ipswich receives £22 million transport package to improve facilities for bus passengers, pedestrians and cyclists.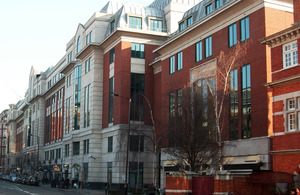 Work on a new £22 million package of sustainable town centre transport measures in Ipswich has been given the final go ahead by Transport Minister Norman Baker today (28 June 2012).
"Ipswich - transport fit for the 21st century" is an integrated scheme designed to deliver a step change in travel behaviour, challenging and changing existing patterns of travel.
The measures include:
changes to the town centre bus interchanges
expansion and improvement of other bus facilities
an urban traffic management and control system
a real time passenger information system
a detailed programme of improvements to walk/cycle routes and crossings in and around the town centre
Norman Baker said:
This innovative scheme will make a huge difference to the way people travel around Ipswich and will be a real boon to the local economy by making new business and housing sites more accessible by public transport.

Strong transport infrastructure which helps to tackle congestion and reduce carbon will help the city achieve sustainable economic growth.
The scheme was one of 10 schemes in the supported pool of local authority major schemes announced in October 2010 following the spending review. Work can now start on the scheme and is forecast to complete in summer 2014.
Notes to editors
Today's (28 June 2012) announcement grant full (final) approval to the Ipswich "Transport fit for the 21st century" scheme enabling work to begin
The works are scheduled to complete in summer 2014.
The department will provide a maximum of £18.3 million towards the full scheme cost of £21.6 million.
The scheme includes:
refurbished and improved bus stations (old cattle market bus station and tower ramparts bus station)
an electronic bus information system with displays at bus stops
an updated computer system to control the traffic signals to improve the flow of traffic and give priority to buses at junctions across Ipswich
a system to send updated bus times to passengers via the internet and mobile phones
detailed programme of improvements to walking and cycling routes and crossings in and around the town centre
News desk enquiries
Media enquiries 020 7944 3021
Out of hours media enquiries 020 7944 4292
Switchboard 0300 330 3000
Published 28 June 2012