Press release
£210,000 funding boost to community projects
Funding to be shared among a number of Near Neighbours projects managed by the Church Urban Fund.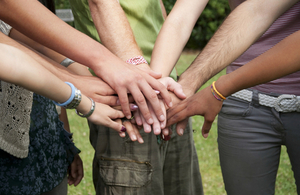 Minister for Faith and Integration Lord Bourne has today (24 January 2017) announced a £210,000 funding boost to be shared among Near Neighbours community projects in England.
Near Neighbours brings together diverse communities and different faiths, through a range of activities that improve their lives and the local community in which they live.
The first projects to benefit from the new funding include those improving employability through basic literacy and numeracy classes, and those bring communities together in unique ways to build personal skills like sewing classes and hospitality training to improve local relationships.
Minister for Faith and Integration Lord Bourne said:
Near Neighbours has a great track record in encouraging individuals from different backgrounds, faiths and cultures to come together, build understanding and make their neighbourhoods even better places to live.

This funding boost will help Near Neighbours projects to support individuals to develop important basic skills as well as support projects that encourage greater community integration.
Church Urban Fund and Near Neighbours Executive Director Paul Hackwood said:
We are grateful to the Department for Communities and Local Government for their support in providing funding for Near Neighbours.

Over 1 million people have now benefited from the work of the Near Neighbours programme where small grants have been used to strengthen local communities, build up trust and mutual support and begin to break down some of the barriers that can be so destructive of community relations.
Established 5 years ago, the Near Neighbours project has been granted a total of £9.5 million by the government and has benefited over 1 million people so far. Grants to Near Neighbours projects are between £250 - £5,000.
Further information
Near Neighbours was set up in 2011 in partnership between the Church Urban Fund and the Archbishop's Council and is funded by the Department for Communities and Local Government. The first projects receiving a share of the £210,000 to be allocated by the Church Urban Fund include:
In the East Midlands:
basic literacy and numeracy workshops in Nottingham for adults in areas with poor educational attainment and where no such programmes exist. The workshops will focus on working with the local Roma and Polish communities
a support group in Nottingham for the bereaved families of murder victims that will help people re-build their lives and become active members in the community
In the West Midlands:
an arts organisation in Birmingham that is working with local teenagers from a home education group to train them as volunteers in hospitality working for a 'food surplus' café
a church in Walsall that is organising an exhibition to commemorate the Holocaust and genocides in Bosnia, Rwanda, Cambodia, and Darfur, to act as a platform for young people from all faiths and none to stand together against hate and prejudice
In London:
an organisation in east London that works with refugee women will be running a 2-month floristry work programme, with the local community involved as volunteers
a church in east London is developing community activities to include a gardening group, a 'borrowing shop' for household items, and a community cinema club
In the North of England:
a youth club in Leeds will be creating a sustainable volunteer programme led by a local police officer and a young graduate to develop young leaders to address tensions in the local area
an interfaith group in Prestwich that is running a design competition in a local school bringing together local sewing groups to produce a banner to decorate a local hospital
a group of Catalyst young leaders programme graduates in Rochdale will be organising fortnightly hot meals services for local asylum seekers, refugees, and homeless people, which will also provide befriending and other support services
Office address and general enquiries
2 Marsham Street
London
SW1P 4DF
Contact form http://forms.communiti...
General enquiries: please use this number if you are a member of the public 030 3444 0000
Published 24 January 2017