20th Armoured Brigade takes command of Task Force Helmand
20th Armoured Brigade has taken over command of Task Force Helmand in Afghanistan from 3 Commando Brigade Royal Marines, officially marking the start of Operation HERRICK 15.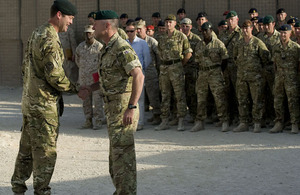 In a short ceremony yesterday, Sunday 9 October 2011, at the headquarters of Task Force Helmand (TFH) in Lashkar Gah, Brigadier Ed Davis, Commander of 3 Commando Brigade Royal Marines, formally handed over to Brigadier Patrick Sanders, Commander of 20th Armoured Brigade.
Over the next six months, 20th Armoured Brigade will look to build on the achievements of 3 Commando Brigade since they arrived in Helmand in March 2011.
Brigadier Davis said the tour had seen significant developments in the capabilities and confidence of Afghan partners. He said:
We have concentrated on strengthening our relations with our Afghan partners in the Army, Police and Helmand provincial government. They have worked hard to build up their capacity to provide security and protect the people from insurgents, as seen by the transition of security authority for Lashkar Gah to the Afghan National Police in July.
We have worked closely with the Provincial Reconstruction Team to continue to stabilise and develop insecure areas.
The men and women of 3 Commando Brigade - some of whom have made the ultimate sacrifice - and their families can be immensely proud of what they have achieved in keeping our country safe by improving the lives of the Afghan people.
Brigadier Sanders said:
Over the last six months, Brigadier Davis and 3 Commando Brigade have made real and lasting progress throughout their area of operations - none more so than the transition of security of Lashkar Gah to Afghan control.
Our objective is to continue to build on the success of 3 Commando Brigade and continue to help the Afghan people achieve their own goals of providing their own security.
We know it will be no easy task, but we are confident that our excellent training has prepared us for the challenge that lies ahead.
Six-and-a-half-thousand personnel from the Army, Navy and Royal Air Force make up TFH. 20th Armoured Brigade will be the lead formation in TFH until March 2012.
Published 10 October 2011