World news story
2014/15 Chevening Scholarships Applications open in Kosovo
Chevening Scholarships: the prestigious global scholarship programme of the UK government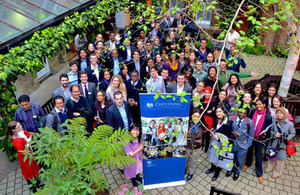 Chevening Scholarships aim to support UK foreign policy priorities by creating lasting positive relationships with future leaders, influencers and decision-makers around the world. They are funded by the UK Foreign and Commonwealth Office (FCO) and partner organisations, operate in 118 countries worldwide, and this year will support over 600 established or emerging leaders. Awards are typically for a one-year Master's degree, in any subject and at any of the UK's leading universities.
The Chevening programme provides a unique opportunity for leaders of the future to build a global network of continuing professional significance. It enables talented individuals to establish social, cultural, academic or commercial partnerships with the UK. With 2013 marking the 30th anniversary of the programme, the FCO hopes that this year's Chevening Scholarships will continue to attract the very brightest and best.
Kosovo's Chevening alumni have an excellent record of rising to positions of leadership across a wide range of fields: including politics, business, the media, civil society, religion, and academia. Some work as MPs, leading journalists, or policy advisers to NGOs and think tanks; others occupy senior positions in commercial organisations.
Applications for Chevening Scholarships must be submitted online at Chevening website. Applicants should read the online guidance and be able to demonstrate how they meet the Chevening selection criteria before submitting an application. Further details of priority subject areas for Kosovo will be uploaded to Chevening Kosovo website. Applications for 2014-2015 Chevening Scholarships will close on 1 November 2013.
Published 3 September 2013