News story
2013 Birthday Honours for Service personnel and Defence civilians
125 UK Service personnel have been granted state honours by Her Majesty The Queen in the annual Birthday Honours List.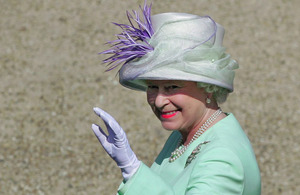 58 civilians have also been honoured either for work in the Ministry of Defence or in other aspects of UK Defence.
The 183 Defence personnel named in the Birthday Honours List for 2013 are listed below; the full list is available on the Cabinet Office's website.
Royal Navy Awards
Promotions in and Appointments to the Military Division of the Most Honourable Order of the Bath
As Companions
Rear Admiral Ian Fergus CORDER
Major General Francis Hedley Roberton HOWES OBE Royal Marines
Promotions in and Appointments to the Military Division of the Most Excellent Order of the British Empire
As Commanders
Commodore Christopher Martin RICHARDS
Commodore Michael Rupert Barry WALLACE
Rear Admiral Jonathan Simon WESTBROOK MBE
As Officers
Acting Captain Andrew James ELVIN
Captain Matthew Sean HARRISON
Colonel James Kyle HUTTON Royal Marines
Commodore William John KEEGAN
Captain Guy Antony ROBINSON
Commander Mark Roger SAVAGE
As Members
Warrant Officer 1 Logistics (Writer) Terence CASEY
Acting Lieutenant Colonel Clifford Roderick Stanton DARE Royal Marines Reserve
Chief Petty Officer Logistics (Writer) Emma Louise DAY
Commander Janet EVANS Royal Naval Reserve (Sea Cadet Corps)
Lieutenant Commander Geoffrey HAYWARD
Lieutenant Commander Steven HEAP
Acting Major Steven MELBOURNE Royal Marines
Warrant Officer 1 Logistics (Supply Chain) David PATERSON
Lieutenant Commander Dereck Malcolm PAYNE Royal Naval Reserve (Sea Cadet Corps)
Chief Petty Officer Engineering Technician (Mechanical Engineering) Richard Edward STECKO
Acting Lieutenant Commander Adam Joseph THOMAS
Lieutenant Dominic VALVONA
Warrant Officer 1 Stanley Mark WATSON Royal Marines
Promotions in and Appointments to the Civil Division of the Most Excellent Order of the British Empire
As Officer
Commodore David PRESTON Royal Fleet Auxiliary
Queen's Volunteer Reserves Medal
Colour Sergeant Peter ROBERTS Royal Marines Reserve
Army Awards
Promotions in and Appointments to the Military Division of the Most Honourable Order of the Bath
As Knight Grand Cross
General Sir Peter Anthony WALL KCB CBE ADC Gen, late Corps of Royal Engineers
As Knight Commanders
Lieutenant General Richard Lawson BARRONS CBE, late Royal Regiment of Artillery
Lieutenant General Adrian John BRADSHAW CB OBE, late The King's Royal Hussars
As Companions
Major General Colin James BOAG CBE, late Corps of Royal Engineers
Major General James Henry GORDON CBE, late The Royal Green Jackets
Major General Andrew Charles Peter KENNETT CBE, late The Parachute Regiment
Promotions in and Appointments to the Military Division of the Most Excellent Order of the British Empire
As Commanders
Brigadier James Michael COWAN DSO OBE, late The Royal Regiment of Scotland
Major General Paul William JAQUES, late Corps of Royal Electrical and Mechanical Engineers
Colonel Iain Gordon McKEND, late The Royal Logistic Corps
Acting Major General Andrew Richard Darwen SHARPE OBE, late The Cheshire Regiment
Brigadier Richard Ross SMITH OBE, late The Light Infantry
Major General Michael Lawrence RIDDELL–WEBSTER DSO, late The Black Watch
As Officers
Acting Colonel Andrew Hugh CASSIDY, Angus and Dundee Battalion Army Cadet Force
Lieutenant Colonel David Mark Arnold COUZENS, Royal Tank Regiment
Lieutenant Colonel Jasper John DE QUINCEY–ADAMS, 1st The Queen's Dragoon Guards
Colonel Heidi Ann DOUGHTY TD, late Royal Army Medical Corps Territorial Army
Colonel Sean Patrick Francis HARRIS, late Corps of Royal Engineers
Acting Colonel Roger George Hunter HERRIOT, Cambridgeshire Army Cadet Force
Lieutenant Colonel Benjamin James HUGHES, Corps of Royal Engineers
Lieutenant Colonel Frederick Charles KEMP, The Parachute Regiment, Territorial Army
Colonel Michael Gillespie Carew O'DWYER MBE, late Irish Guards
Colonel David John Clive RUSSELL–PARSONS, late Grenadier Guards
Lieutenant Colonel Paul TOMBLESON, Royal Regiment of Artillery
Lieutenant Colonel Ewen George Ellis TURNER, The Rifles
Lieutenant Colonel William Stewart Codrington WRIGHT MBE, The Rifles
As Members
Major Nicholas Douglas Ernest ABRAM, The Royal Regiment of Scotland
Major David James BICKERS, Corps of Royal Engineers
Warrant Officer Class 1 David Stuart BUSH, Army Air Corps
Major James Ronald CAMPBELL–BARNARD, 9th/12th Royal Lancers
Major Charles Nugent COOPER, Royal Corps of Signals
Major Richard John CRAIG, Royal Corps of Signals
Major Tristan Alexander CREW, Royal Army Medical Corps
Lieutenant Colonel Michael Sean DOOLEY, Royal Corps of Signals
Major Andrew Anthony DUNFORD, Adjutant General's Corps (Staff and Personnel Support Branch)
Major Stephen FARR, Corps of Royal Engineers
Major Andrew Michael GILKS, Army Air Corps
Warrant Officer Class 2 Stephen Brian GILL, Coldstream Guards
Major Simon GOUGH, Army Air Corps
Major Andrew Francis HODKINSON, Royal Regiment of Artillery
Major Jeremy JONES, The Parachute Regiment
Major Matthew Howard JONES, Intelligence Corps
Major Robin George JONES, Corps of Royal Electrical and Mechanical Engineers
Major Shaun Christopher LAMB, Royal Regiment of Artillery
Major Austin Conrad LILLYWHITE, The Royal Logistic Corps
Major Alexander Robert McKAY, The Mercian Regiment
Major Nicholas Edward MOORE, Corps of Royal Electrical and Mechanical Engineers
Warrant Officer Class 1 William Paul MORGAN, Corps of Royal Mechanical and Electrical Engineers
Major Nicholas Ian MORTON, Royal Regiment of Artillery
Colour Sergeant Rustim MURPHY, The Parachute Regiment
Major Nigel Joseph OVERTON, Coldstream Guards
Major Richard Mark PAGE, Corps of Royal Engineers
Warrant Officer Class 2 Michael John PEARCE, The Royal Logistic Corps
Major Simon Justin PERRETT, Royal Corps of Signals
Major Graham Paul QUANT, Corps of Royal Electrical and Mechanical Engineers
Corporal Luisa Likurua RATU, Adjutant General's Corps (Staff and Personnel Support Branch)
Lieutenant Colonel Norman Howden ROBERTSON BEM, The Royal Scots Dragoon Guards
Major David Jonathan SAMS, Army Air Corps
Major Langley Christian SHARP, The Parachute Regiment
Acting Lieutenant Colonel Keith Andrew SMITH, Whitgift School Combined Cadet Force
Major Andrew Maurice SOMERVILLE, Corps of Royal Electrical and Mechanical Engineers
Major Charles Alasdair STEPHEN, The Duke of Lancaster's Regiment
Captain Adrian Karl THORPE, The Royal Logistic Corps
Warrant Officer Class 2 Julian Stephen TRANTER, Royal Regiment of Artillery
Major Michael Emlyn WILLIS, The Yorkshire Regiment
Captain Andrew WILMOT, The Royal Logistic Corps
Royal Red Cross
Second Class
Major Sharon Mary BEATTY, Queen Alexandra's Royal Army Nursing Corps
Queen's Volunteer Reserves Medal
Lieutenant Colonel Jacqueline Anne ALLAN TD, Royal Corps of Signals Territorial Army
Colonel Steven CHEETHAM MBE TD, late Corps of Royal Engineers Territorial Army
Major Paul John JOHNSON, The Mercian Regiment Territorial Army
Lieutenant Colonel David Andrew JONES MBE, Corps of Royal Engineers Territorial Army
Royal Air Force
Promotions in and Appointments to the Military Division of the Most Honourable Order of the Bath
As Companions
Air Vice-Marshal Michael Guy LLOYD
Air Vice-Marshal Matthew John Gethin WILES CBE
Promotions in and Appointments to the Military Division of the Most Excellent Order of the British Empire
As Commanders
Air Commodore Michael John Madoc JENKINS OBE
Group Captain Nigel James PHILLIPS
Air Commodore Ian Richard William STEWART
As Officers
Wing Commander Andrew DICKENS
Wing Commander Teresa Anne GRIFFITHS ARRC, Princess Mary's Royal Air Force Nursing Service
Wing Commander Sean Kenneth O'CONNOR
Wing Commander Mark PHELPS
Wing Commander Philip Jeremy ROBINSON DFC
Wing Commander John WALSH
Wing Commander Stephen William WALSH
As Members
Squadron Leader Colin Taylor BROWN
Warrant Officer William Maurice DIXON
Flight Lieutenant George Eric EDMONDSON
Chief Technician John Peter FELLOWES
Squadron Leader Peter Howard GIBB
Flight Sergeant Mark Andrew HAMILTON
Acting Warrant Officer Charles Gordon MARSHALL
Squadron Leader Toby Charles SAWBRIDGE
Squadron Leader Ian Stacy SMITH
Squadron Leader Simon David TATTERS
Sergeant Christopher Charles TAYLOR
Squadron Leader Annella Robyn TINDALE
Acting Squadron Leader Bernard TISLEY, Royal Air Force Volunteer Reserve (Training)
Warrant Officer James William UNDERHILL
Royal Red Cross
Second Class
Squadron Leader Lorraine Howard LAWTON, Princess Mary's Royal Air Force Nursing Service Royal Auxiliary Air Force
Queen's Volunteer Reserves Medal
Wing Commander Marie-Noelle Francesca ORZEL OBE, Princess Mary's Royal Air Force Nursing Service Royal Auxiliary Air Force
Civilians in defence
Commanders of the Order of the British Empire (CBE)
Iain Richard EVANS, for services to the Review of Defence Acquisition & the Consultancy Industry
John Frederick FARMER, for voluntary service to Ex-Servicemen & Women
Paul MARTIN, Ministry of Defence
Officers of the Order of the British Empire (OBE)
Trevor BAKER, Ministry of Defence
Russell BRYAN, Ministry of Defence
Peter James DAVIS, Ministry of Defence
Stephen ELEY, Ministry of Defence
Stephen Hugh GLASS, Ministry of Defence
Ms Tina HOLMES, Ministry of Defence
Ms Mandy Johnston HOPE, Ministry of Defence
John Ifor Rewbridge OWEN, Ministry of Defence
James William TRAIL, for services to the Defence Industry
Ms Patricia Janette WILSON, Ministry of Defence
Members of the Order of the British Empire (MBE)
David Patrick BELL, for voluntary service to St John Ambulance
Alan George CONQUEST, for voluntary service to the Royal British Legion and SSAFA
Allan COTTLE, for voluntary service to Royal Navy Search & Rescue Training
Lady Phillippa Margaret Gurney DANNATT, for voluntary service to SSAFA
Mrs Danielle Charlotte FENNING, Ministry of Defence
Mike GOUGH, Ministry of Defence
Denzil Evans HAYNES, for voluntary service to the RAF Association
Dr Robert William HEATH, for voluntary service to St John Ambulance
Paul David HERBAGE, for voluntary service to St John Ambulance
Adam JAMIESON, Ministry of Defence
Major William Alan JOHNSTON, TD, for voluntary service to SSAFA
Gareth Barrington Owen Rees JONES, for services to the Armed Forces
Peter Richard JONES, Ministry of Defence Police
Major James Tyrell Dermot MaCCARTHY-MORROGH, Ministry of Defence
Michael William PITKEATHLY, for voluntary service to Naval Heritage
Steve PORTER, Ministry of Defence
Mrs Josephine POWNALL, Ministry of Defence
Mrs Celia Joan Mary SAYWELL, for voluntary service to the Association of Wrens (Women of the Royal Naval Services)
Mrs Wendy Penelope SOLESBURY, for services to the British Red Cross and the London 2012 Olympic & Paralympic Games
Thomas Alexander TAYLOR, Ministry of Defence
Mrs Einir Wynn VINEY, Ministry of Defence
Major Michael Gordon VOKES, TD, for services to the Combined Cadet Force
Rev Christopher James Anthony WALKER, for services to Armed Forces personnel
John Douglas WALKER, for voluntary service to the Royal British Legion
Squadron Leader Colin Raymond WOODLAND RAF (Retd), for voluntary service to the Soldiers' & Airmen's Scripture Readers Association
Andrew Paul WRIGHT, Ministry of Defence
The British Empire Medal (BEM)
Mrs Patricia Jane BRANLEY, Ministry of Defence
Mrs Una CLEMINSON, TD, for voluntary service to the Royal British Legion
Charles Richard COOPER, for voluntary service to the Army Cadet Force
Ms Pauline CROCKARD, Ministry of Defence
Mrs Lindsay Margaret DALY, for services to the Defence community
Hal Joseph DAVENPORT, for voluntary service to the RAF Association
John Malcolm Stuart FLETCHER, for voluntary service to the Sea Cadet Corps
Cyril Oliver GOULBOURNE, for voluntary service to the Royal British Legion
Mrs Vivienne HAMMER, for services to The Bomber Command Association
Mrs Jeannette Allegra HARRISON, for voluntary service to the British Red Cross
Martin Thomas HAY, for voluntary service to SSAFA
Mrs Florence MANN, for voluntary service to St John Ambulance
Mrs Judith Mary MUSTON, for voluntary service to SSAFA
Roy John PIDGEON, for voluntary service to the Air Training Corps
Dean Gratton PURSELL, for voluntary service to SSAFA
John Alfred UPTON, for voluntary service to St John Ambulance
Terence Edward WALTON, for voluntary service to St John Ambulance
Norman Harry WOOD, for voluntary service to the British Red Cross Society
Published 15 June 2013