2012 free schools application window now open
From today, groups that want to open free schools in September 2012 can submit their detailed plans to the Department for Education.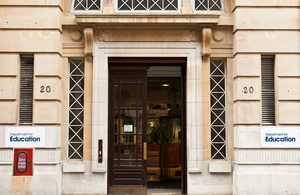 And, for the first time, the department will also consider applications from people who want to set up age 16-19 free schools, schools that cater specifically for children with special educational needs, and schools that offer alternative provision (for example, pupil referral units).
The groups will be the first to apply under the new more streamlined, efficient and competitive process. This mirrors the approval process used in states in the US that have the most successful Charter School systems.
From now on groups will be required to submit a high level of detail about their plans from the very outset. This will allow ministers and officials to identify the strongest plans more quickly, and allow groups to demonstrate the full range of their abilities much earlier on in the process. Shortlisted groups will then be invited to an interview with financial experts, education advisers, headteachers and organisations with a track record of setting up and running schools. Final decisions will be made by ministers in September.
The department has also today updated the information on groups that applied under the first system:
Of the 323 proposals received, 41 proposals were approved to move to the business case stage or beyond; one proposal was withdrawn
26 of the remaining 40 proposals have now been approved to move to the next stage of their application, the pre-opening stage; these also include a number that aim to open in September 2012 or beyond
Four of the 26 have reached the final stage and have funding agreements - more are expected to follow soon
Eight proposals in the business case and plan stage, for schools opening in September 2012, have been asked to submit an application in line with the new application process, launched today - their applications will be assessed alongside new applications received
Successful groups will be notified in September. They will then start preparing to open their new schools.
Further information
There is more information about Free Schools, including how to apply, in the Free Schools section of the Department for Education's website.
DfE enquiries
Central newsdesk - for journalists 020 7783 8300
General enquiries - for members of the public 0370 000 2288
Published 16 May 2011