News story
£20 million fund is ensuring no second night out for rough sleepers nationwide
Housing Minister Mark Prisk announces the next round of a £20 million fund to ensure that nobody has to spend a second night on the streets.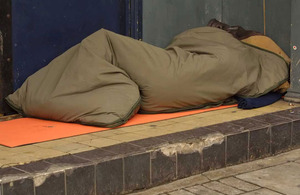 Mr Prisk said that the latest allocations from the Homelessness Transition Fund are helping to expand the No Second Night Out principle - which aims to support rough sleepers to get off the streets and their lives back on track - right across the country.
Today, 23 charities will receive their share of £3.6 million - taking investment through the fund so far to almost £16 million with more to be allocated next year.
The minister said a total of 85 homelessness schemes are now working under No Second Night Out across 64 areas, preventing rough sleeping and ensuring that those who do find themselves on the streets are quickly found and offered help.
According to HomelessLink, more than 6,000 people have been helped off the streets or prevented from sleeping rough by the scheme so far.
Supported by Streetlink
The minister also pointed to StreetLink, the new national rough sleeping hotline and website, as a vital way to connect even more vulnerable people with the help they need.
StreetLink gives members of the public a chance to help rough sleepers in their area by putting them in touch with local services. With 4,000 contacts from the public since its launch in December, it is already making a difference to many lives.
Housing Minister Mark Prisk said:
We have some of the strongest protections in the world against homelessness, and key to this is our £20 million investment to extend No Second Night Out across the country.
Nobody should have to face a second night on the streets, and today's cash will mean that local services can ensure no-one has to. And with the addition of new rough sleeping hotline Streetlink, people who want to make a difference can now take a very simple step to connect rough sleepers quickly to the help they need.
Sharon Allen, Chair of HomelessLink's Fund's Grants Panel said:
Anyone can become homeless and life on the streets is damaging and dangerous. We know that some people sleeping rough may not be known to local services and not all rough sleepers are aware that advice and services are available.
We hope this funding will ensure more rough sleepers get the support they need. You can also help, save the StreetLink number - 0300 500 0914 - on your phone right now and next time your concerned about someone sleeping rough, make a call.
Further information
The Homelessness Transition Fund was set up to help support the Government's rough sleeping strategy, Vision to end rough sleeping: No Second Night Out nationwide.
DCLG is providing £20 million to Homeless Link to administer the Homelessness Transition Fund. The £3.6 million announced today is part of that investment. Homeless Link is the national charity representing over 500 organisations working directly with homeless people in England.
Administered by umbrella organisation Homeless Link, today's £3.6 million grant will go to 23 organisations delivering:
work to prevent homelessness, getting people the help they need before they reach the street
a swift response for new rough sleepers to ensure they don't become entrenched in a street-bound lifestyle
tailored support and accommodation for longer term rough sleepers
long term help to stop people returning to streets and get them into stable work and accommodation
The following areas have received new funding:
| Area | Project name | Grant amount |
| --- | --- | --- |
| Bedfordshire | Noah Enterprise | £183,799 |
| Birmingham | SIFA Fireside | £89,879 |
| Derby | Riverside ECHG | £200,000 |
| Durham | The Cyrenians | £198,353 |
| Greater Manchester | Riverside ECHG | £200,000 |
| King's Lynn | The Purfleet Trust | £106,277 |
| Lancashire | The Foxton Centre | £197,360 |
| Leeds, Kirklees and Wakefield | CRI | £189,931 |
| Leicester | Action Homeless | £199,849 |
| London | Depaul UK | £192,734 |
|   | SHP | £95,453 |
| Mendip | Elim Connect Centre | £117,810 |
| Nottingham | Framework HA | £123,772 |
| Peterborough | Peterborough Streets | £137,797 |
| Rochdale | Petrus | £199,108 |
| Sheffield | Cathedral Archer Project | £176,873 |
| Sheffield | ASSIST | £87,032 |
| Southend-on-Sea | Homeless Action Resource Project (HARP) | £122,537 |
| Warrington | Brighter Futures HA | £199,831 |
| Waveney | St John's Housing Trust | £82,931 |
| West Midlands | Midlands Heart | £170,940 |
| Wirral | Wirral Churches Ark Project | £156,939 |
| Wolverhampton | P3 | £198,647 |
Published 18 January 2013