2 SCOTS and Afghan police clear insurgent hotspot
Soldiers from 2 SCOTS have been working with members of the Afghan National Police to successfully clear an insurgent stronghold in the rural area of Loy Adera in Helmand province.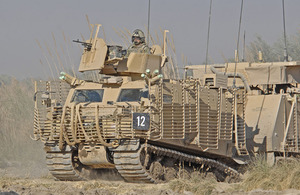 The operation is allowing the lives of local Afghans to return to normal and, in the coming weeks, soldiers from C Company, The Royal Highland Fusiliers, 2nd Battalion The Royal Regiment of Scotland (2 SCOTS), and the Afghan National Police (ANP) will build several new patrol bases in the area, which is close to the provincial capital of Lashkar Gah.
During the initial stages of the operation a Mastiff armoured vehicle struck an improvised explosive device, but no casualties were sustained and the troops were able to continue with their mission.
Once this initial difficulty was overcome, the operation picked up pace, lasting for 48 hours and involving a number of significant fire fights with insurgents. The 'Jocks', as the SCOTS soldiers are known, worked closely with the ANP to repel all the contacts, despite continued accurate fire from the insurgents.
Sadly, one ANP officer was killed during the operation despite the best efforts of Army combat medics to treat his gunshot wound.
Captain George Vlachonikolis, cultural advisor with 2 SCOTS, said:
Loy Adera is an area which has historically been a staging post for the Taliban in Helmand.

The people here, however, are really receptive to ISAF and they want to get rid of the insurgents as much as we do.

These new patrol bases and the peace of mind that they offer will provide the locals with the freedom to get on with their lives and the Afghan Government with the ability to begin investing in the area.
The operation is just one of many conducted over recent weeks as ISAF and Afghan forces aim to keep up the momentum against the insurgents in what has previously been a quieter period for insurgent activity.
Published 1 December 2010