2 MERCIAN help Afghan Government reach out in Upper Gereshk Valley
British soldiers have been helping to spread the influence of the Afghan Government in Helmand province by bringing its representatives together with local Afghan elders.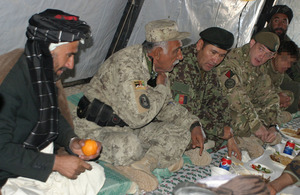 It is important that the local population feel they have a viable alternative to the insurgency in the form of the official Afghan Government.
To help the population see the benefits of government control, troops from 2nd Battalion The Mercian Regiment (2 MERCIAN) have helped bring together district community councillors and local elders from their area of operations, the Upper Gereshk Valley in the Nahr-e Saraj (North) district of Hemand province, for the first time.
After careful and delicate negotiations and relationship-building throughout their tour, 2 MERCIAN managed to facilitate this meeting to strengthen the links between the government and the local population.
It signifies the progress the battalion has made since they deployed in October, and is a milestone for the local Afghan National Security Forces and the Government of the Islamic Republic of Afghanistan.
Lieutenant Colonel Colin Marks is the Commanding Officer of 2 MERCIAN who are tasked with helping to maintain freedom of movement for local Afghans along Route 611, which links the city of Gereshk in the south with Sangin district centre in the north.
The road used to be a dirt track and it could take up to six hours to travel between Sangin and Gereshk. But after the 611 was blacktopped by the US Marine Corps in March 2011 journey times have dropped to 45 minutes and 2 MERCIAN have seen greater numbers of Afghans using the road to travel to market.
Lieutenant Colonel Marks said:
This occasion marks significant progress in governance outreach from Gereshk and security on the ground. Today, the chairman of the council security sub-committee addressed elders, who were receptive to his points. This shura will be followed up next month by a second visit to the area by the district governor himself.
Our relationship with the local Afghan National Civil Order Police [ANCOP] and the Afghan National Army has also grown. Afghan troops are taking on more responsibility for security in the area and their skills and capabilities are improving rapidly.
Lieutenant Colonel Marks praised the efforts of local Afghan security forces. The elite ANCOP have been taking over command of more and more checkpoints in the area throughout the winter. He said:
The significance of having Afghan units leading security efforts here is huge. We have established a fantastic working relationship with the Afghans. We conduct joint planning and share information regularly and our Afghan partners really are in control, with us very much in the background providing support.
Published 9 February 2012