Press release
£2.9m to create 1,100 new jobs in the South West announced on rural roadshow
Devon and Somerset is one of five regions to benefit from a Rural Growth Network.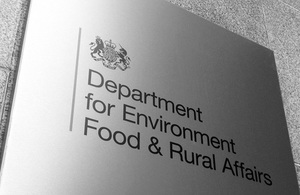 More than 1,100 jobs are expected to be created in Devon and Somerset following a £2.9 million Government investment that will boost the region's rural economy by £58 million, Farming Minister, Jim Paice announced on his rural roadshow to the region today.
Devon and Somerset is one of five regions to benefit from a Rural Growth Network, set up to help rural areas overcome the barriers to economic growth, such as a shortage of business premises and poor broadband access.
Mr Paice announced the Rural Growth Network funding on his rural roadshow to Devon today. Defra rural roadshows allow ministers to hear first-hand about rural issues from communities and businesses, to learn about successes and challenges and discover what help is needed to support rural growth and jobs.
Mr Paice is visiting the Earth Centre in Bicton where redundant farm buildings will be transformed into around nine new work premises. This is just one of eleven 'enterprise hubs' that the Rural Growth Network will create in Somerset and Devon. Across the network of enterprise hubs, new work premises are being planned to meet every business need, from flexible open plan office space, designed for start-up companies, to larger units that allow businesses to grow.
Each enterprise hub will provide one-to-one advice and support, dedicated mentoring, training, networking opportunities and access to good quality broadband. The Devon and Somerset Rural Growth Network is expected to support over 400 businesses; entrepreneurs will have high quality new work space to start up their companies and over 1,100 jobs will be created as local businesses get the support they need to grow.
Farming Minister, Jim Paice said:
"There are particular challenges to running a business in a remote area. Too often problems like a shortage of work premises or the need to travel to a city for training are preventing entrepreneurs from realising their ambitions. The Rural Growth Network will take down these barriers to growth and create new business opportunities.
"I've heard about some really innovative work to create new jobs and sustainable growth in Devon and I've come on a rural roadshow to find out more. I will listen to advice from local businesses and communities about the kinds of steps that the Government should take as part of our drive to unlock the economic potential of rural areas and support thriving rural communities."
The Rural Growth Network will give family businesses in Devon and Somerset exclusive access to world-class training from the International Institute for Management Development (IMD), ranked third in the world's top business schools by the Financial Times. The programme, led by IMD in conjunction with the University of Exeter and Clinton Devon Estates, will be launched later this year.
Mr Paice will meet the programme leaders in person and watch a video link that will connect local businesses with Joachim Schwass, Professor of Family Business and Entrepreneurship at the International Institute for Management Development in Switzerland. Professor Schwass will share expert advice on making a successful family business.
Devon's Cabinet member for Economy and Local Enterprise Partnership (LEP) board member, Will Mumford, said:
"I am delighted with the Minister's announcement and the Government's backing for our rural economy. We have worked closely with our neighbours in Somerset and the LEP to be designated as one of the five Rural Growth Networks."
On his Rural Roadshow today, Mr Paice will meet Tom Houlden, who is now employed at Clinton Devon Estates, having completed an apprenticeship programme pioneered by the Forestry Commission.
Farming Minister, Jim Paice continued:
"The forestry sector has great potential for growth but, for some time, it has been held back by a lack of skilled new recruits joining the workforce. This apprenticeship programme is tackling this problem in the South West, allowing forestry businesses to expand their workforce and maximise new opportunities, such as the growth in the firewood market.
"Rural roadshows give me a chance to learn more about success stories like this so that Government can identify proven ways to help create jobs and growth across rural England."
Also on his rural roadshow, Mr Paice will listen to views from two IT businesses about what more the Government can do to help new industries, as well as the more traditional, thrive in rural areas. He will meet YouGen, an advice service on renewable energy, and Cosmic Ethical IT, a social enterprise, to learn about what has contributed to their success.
At Otter Brewery in Honiton, Mr Paice will visit the 'Greed Shed' conference room where school groups, police and local businesses are educated in local food production and responsible drinking. Otter Brewery sources all malt and barley from local farms and was one of ten finalists in the 2010 National Business Awards for Corporate and Social Responsibility.
Notes
Bicton Earth Centre is a land based college that educates businesses, students and visitors in renewable energy and sustainable land use. Separate to today's funding announcement, Defra has already invested £100,000 in the college to enable small businesses and individuals to take new opportunities in the green sector and increase local employment.
Bicton Earth Centre is just one of the Rural Growth Network's enterprise hubs planned for Devon and Somerset.
At Minehead and Barle Enterprise Centres in Somerset, three existing work units will be reconfigured creating space for new businesses to be set up and have the space to expand.

New work premises will be built at Isleport Business Park in Highbridge, Somerset.

A new Agricultural Business Centre will be built in the market town of Holsworthy, Devon, to provide advice and support for the agricultural industry. It will host a regular livestock market and provide offices for auctioneers and other agricultural businesses. Eighteen acres of land around the centre will be developed to generate employment opportunities.

The existing Webbers Yard Rural Business Park in Dartington, Devon will be revamped and expanded to provide good quality business space and increase employment opportunities.

A new mixed-use (retail and business) development is planned for Okehampton, Devon, to complement the existing business centre. There will be an opportunity for public and private sectors to develop green land around the site to provide further opportunities for local businesses.
All of these enterprise hubs will be networked with one another, acting as centres to facilitate knowledge transfer, provide mentoring, training and skills development to enable businesses to grow and capitalise on new opportunities.
In the Blackdown Hills and East Devon areas, the Forestry Commission has worked in partnership with the Silvanus Trust, the RDPE funded 'Making it Local' programme, Bicton College and private sector employers to deliver a forestry apprenticeship programme.
The five areas have been chosen to deliver Rural Growth Networks: Wiltshire, Cumbria, Somerset and Devon, Durham and Northumberland, and Warwickshire.
Published 28 August 2012