News story
1st Mechanized Brigade takes over in Helmand
The Army's 1st Mechanized Brigade has taken command of Task Force Helmand in southern Afghanistan marking the start of Operation Herrick 18.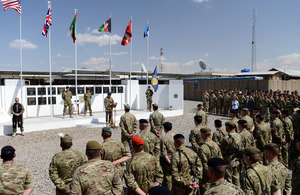 Over the next 6 months the incoming brigade will support the Afghan National Security Forces (ANSF) as they lead the security of Helmand province; advising and training as well as providing important enablers such as medical evacuation, aviation and surveillance capabilities.
In a short ceremony in front of British, Danish, Estonian and American partners at the headquarters of Task Force Helmand in Lashkar Gah, Brigadier Bob Bruce, Commander of 4th Mechanized Brigade, formally handed over to Brigadier Rupert Jones, Commander of 1st Mechanized Brigade, officially marking the start of the Operation Herrick 18 deployment.
Both brigadiers hosted senior ANSF officials at an evening reception in Lashkar Gah ahead of the ceremony to reflect on the successes of the winter campaign and discuss plans for the summer.
A mark of the progress through the winter is that the footprint of British forces across Helmand province has retracted significantly over the Herrick 17 deployment; of the 37 bases British troops occupied 6 months ago, only 12 remain.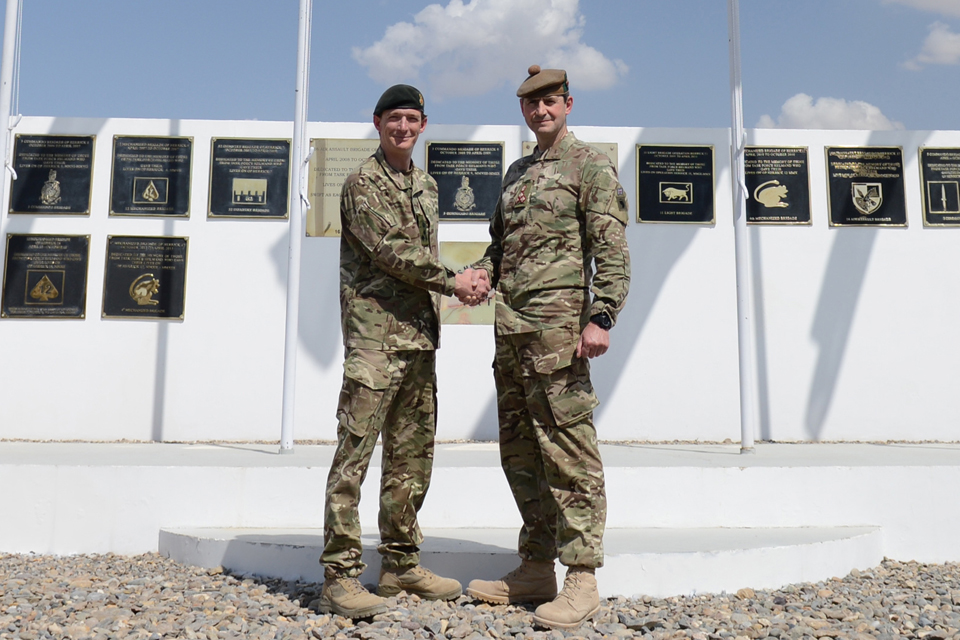 Reflecting on the successes of his tour, Brigadier Bob Bruce, Commander of Task Force Helmand for Herrick 17, said:
A huge amount has been achieved by the men and women of Task Force Helmand over the past 6 months, working closely with our Afghan allies.
As a result of this work, the insurgency has been significantly weakened and the Afghan forces have moved into the lead for security operations.
The Afghan people can see this fundamental development and so can the insurgents.
There is still plenty of work to be done and I wish 1 Mechanized Brigade every success as they support the Afghan forces to win in what will be a challenging period ahead.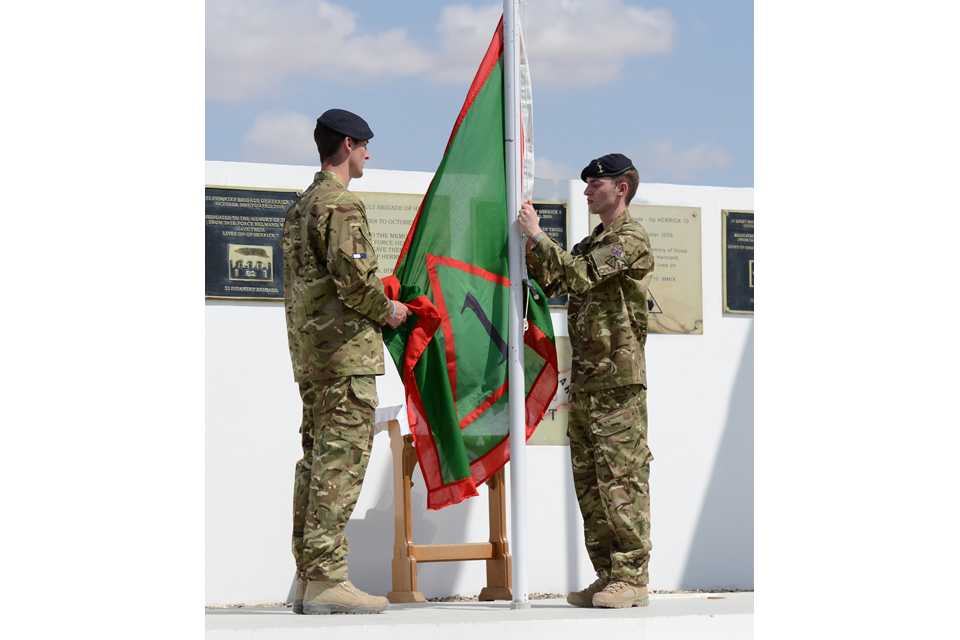 Brigadier Rupert Jones, Commander of Task Force Helmand for Herrick 18, said:
Thanks to the efforts and great sacrifices of those who have gone before from the ANSF and Coalition forces, the Afghans are now ready to lead operations this summer when traditionally the insurgency tends to be stronger.
Our focus will be on providing them with support when it is really needed and continuing to develop their confidence and institutions, and improve the structure of their security organisations at a higher level.
Royal Navy, British Army and Royal Air Force elements make up Task Force Helmand, and 1st Mechanized Brigade will be its lead formation until October 2013.
Published 10 April 2013