Press release
£165 million boost to tackle bottlenecks
Second tranche of Local Pinch Point funding released to stop road congestion.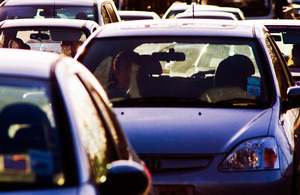 Congested roads across England are to be tackled with £165 million of funding, Transport Secretary Patrick McLoughlin announced today (31 May 2013).
Today's (31 May 2013) announcement is the second tranche of funding from the £190 million Local Pinch Point Fund, first announced in December 2012. A further 62 schemes have today (31 May 2013) won department funding, bringing the total number of schemes financed by the fund to 72. Combined with local contributions, the total investment rises to more than £300 million.
The successful schemes being announced today (31 May 2013) include improvements and upgrades to vital roads and bridges, new access routes and enhancements to address congestion at local traffic hotspots. Many of the schemes will help enhance provision for buses, as well as improving facilities for cycling and walking.
Transport Secretary Patrick McLoughlin, said:
This government is taking action on both jobs and growth.

The schemes we have announced today (31 May 2013) are designed to target key bottlenecks around the country, making life easier for the thousands of motorists and businesses who use the local road network every day.

Investing in these schemes shows that the government is serious about accelerating growth where it is needed most.

These schemes have the potential to help create more than 100,000 jobs and around 100,000 new homes.

I look forward to seeing works underway as soon as possible.
A full list of the successful bids can be found on the website. All the schemes for which funding has been confirmed today (31 May 2013) are also receiving funding contributions from the local council or the private sector.
Notes to editors
As part of the 2012 'Autumn statement' the government announced the creation of a Local Pinch Point Fund worth £170 million to remove bottlenecks on the local highway network which are impeding growth.
The fund reflects the government's commitment to supporting economic growth by tackling barriers on the local highway network that may be restricting the movement of goods and people. The fund is aimed at those schemes that can be delivered quickly with immediate impact. The Department for Transport's funding contribution (in the form of capital) is only available in 2013 to 2014 and 2014 to 2015.
Today's (31 May 2013) announcement follows the announcement made on 22 March in which 10 Local Pinch Point schemes were awarded funding.
The £165 million funding being provided by the department will release over £161 million of funding from local highway authorities and third parties to the total scheme costs.
Guidance for local highway authorities on the bidding process was published on 3rd January 2013.
Over 170 bids were received from local authorities, requesting over £400 million of central government funding. Due to this, ministers have agreed to add a further £20 million to the fund from savings made elsewhere within the department's budgets to ensure that more bottlenecks can be dealt with on the local highway network.
Further information on the schemes being announced today (31 May 2013) is available.
News desk enquiries
Media enquiries 020 7944 3021
Out of hours media enquiries 020 7944 4292
Switchboard 0300 330 3000
Published 31 May 2013