Press release
£25 million boost to tackle highway bottlenecks
The first allocation of the £170 million Local Pinch Point Fund programme will enable early delivery of schemes to remove bottlenecks.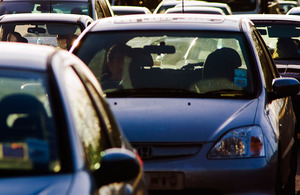 Ten schemes to remove bottlenecks on the local highway network and support economic growth were given the green light today by Transport Secretary Patrick McLoughlin.
This £25 million in funding, the first allocation from the £170 million Local Pinch Point Fund programme, will enable early delivery of these schemes and will help support employment while unlocking development sites to help local businesses and communities.
Transport Secretary, Patrick McLoughlin said:
Tackling bottlenecks on the highway network will help keep get the country moving and the economy growing. I want to see this work underway and shovels in the ground as soon as possible, so today I am announcing £25 million to fast track the first 10 schemes.
Of the 10 schemes awarded funding today, 4 are expected to commence in the next few weeks, with the others starting over the coming year. Full details are available on GOV.UK.
Notes to editors
As part of the 2012 Autumn Statement the government announced the creation of a Local Pinch Point Fund worth £170 million to remove bottlenecks on the local highway network which are impeding growth.
The fund reflects the government's commitment to supporting economic growth by tackling barriers on the local highway network that may be restricting the movement of goods and people. The fund is aimed at those schemes that can be delivered quickly with immediate impact. The Department for Transport's funding contribution (in the form of capital) is only available in 2013 to 2014 and 2014 to 2015.
The £25 million funding being provided by the department will release over £19 million of funding from local highway authorities and third parties to the total scheme costs.
Guidance for local highway authorities on the bidding process was published on 3 January 2013.
Over 170 bids were received from local authorities, requesting over £400 million of central government funding. The remaining schemes are now being assessed and the Secretary of State for Transport will make further announcements on successful schemes in due course.
Further information on schemes being announced today are available on the website
Press enquiries: 020 7944 3118
Out of hours: 020 7944 4292
Public enquiries: 0300 330 3000
Published 22 March 2013