News story
160 students start Whitehall internships
More than 160 students have begun internships in Whitehall as part of a programme to attract talented individuals to the Civil Service.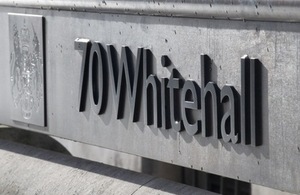 This week more than 160 undergraduate interns from declared ethnic minority and diverse socio-economic backgrounds started a 2-month Whitehall internship. Candidates will spend time in a central department, learn about the Civil Service and how it operates and become involved in departmental projects, along with developing broader skills. They will also be paired up with existing Fast Streamers in departments who act as 'buddies' or mentors.
The programme aims to raise awareness of career and training opportunities within government, particularly the Fast Stream scheme, and attract talented individuals from diverse backgrounds into the Civil Service.
Minister for the Cabinet Office Francis Maude said:
We are working to build a Civil Service which is more skilled, more dynamic and more innovative. We want to open up opportunities to talented individuals, whatever their background.

Our Summer Diversity Internship programme offers young people from ethnic minorities and from diverse socio-economic backgrounds the chance to try out life in Whitehall. They will learn on the job and see if the Civil Service could be the right career path for them.
Sir Bob Kerslake, the Head of the Civil Service, said:
Like any big organisation, the success of the Civil Service depends on its staff. I'm absolutely committed to improving diversity in every part of the Civil Service to reflect and represent the society it serves.

Internships are a great way to give ambitious young adults a vital first foot on the career ladder, enabling them to gain exposure to the workings of government, obtain valuable professional experience and give them an opportunity to build their leadership skills.
The most recent data indicates around 13% of the successful Fast Stream candidates were from an ethnic minority background, and the government is continuously striving to do even better in promoting the Fast Stream to a wider pool of diverse talent.
Notes to editors:
The Fast Stream is the Civil Service's primary graduate development programme. It's very highly regarded in the graduate market place and continues to appear in the top 5 of the Times Top 100 Graduate Employer league table.
Last year's scheme was a finalist for the 'Best Diversity in Work Experience' award as part of The National Placement & Internship Awards, as well as a finalist for the NCWE Work Placement of the Year award (Public Sector), and also highly commended in the 'Race for Opportunity' award in respect to the SDIP Coaching Programme.
The Summer Diversity Internship Programme forms one part of the Whitehall Internships Programme, that comprises 3 complementary internship schemes designed for graduates and undergraduates, college students and secondary students who come from under-represented groups.
Published 14 June 2013