Press release
16 July 2012, Paul Burstow, IAPT for children and young people
Thank you. It's a pleasure to be speaking about the progress that has been made in developing IAPT for children and young people. There are…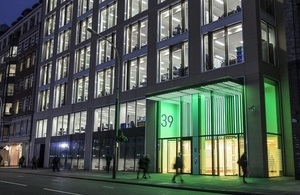 Thank you.
It's a pleasure to be speaking about the progress that has been made in developing IAPT for children and young people.
There are some statistics that never lose their impact.  That demand a response.  Demand action.
For me one such statistic is the fact that one in ten children aged between five and sixteen years has a clinically diagnosable mental health problem.
And all of them should have the best evidence based care.
My ambition is that CYP IAPT will help them get it.
That is why I have been doing everything I can in the Department of Health to support you.
Recently that led to securing an extra £22million over the next three years.
That money went straight into three critical actions:
• First, extending the reach of the IAPT programme, so more children in more areas will benefit;
• Second, increasing the range of evidence-based therapies that children are offered.  Systemic Family Therapy and Interpersonal Psychotherapy will help address problems like eating disorders, depression, self-harm and conduct problems;
• And third, developing new e-learning tools, so staff in all sorts of settings, from GP surgeries and schools to faith centres and police stations, can get better at working with children and young people with mental health problems.
In short, we are making that money work hard.  It means more young people will have access to more help.
Like I said, that simply wouldn't have happened without you.
In fact, CYP IAPT wouldn't have happened at all.
This has all been down to a truly Herculean effort by you and your colleagues.
You got everything going within the academic year. Working through the night and at weekends. Putting your lives on hold.
I also know that you have had exceptional help from your colleagues in the Department of Health - people like Karen Turner and Kathryn Pugh among others, who have driven this work forward with fantastic enthusiasm. 
In such a unique programme there are so many things to celebrate.  I would highlight the input of children and young people helping shape this project.
We know all about the work Young Minds, Youth Access and others have done to support the project.
But I also want to acknowledge and pay tribute to the work young people have put in at all the sites.
Bringing invaluable insight to the selection of candidates to join the collaboratives.     Shaping self-referral schemes. And giving constructive feedback at all levels of the programme.
Their advice has meant that the IAPT service will be as strong as possible as it expands into new parts of the country.
We had always planned for a fourth collaborative to join the original three, but the new funding means we had room for a fifth.
I feel as if there should be a drum roll now!
Because it gives me great pleasure to formally announce that the North East and South West (Devon) are successful the Collaboratives.
Huge congratulations to them and their teams.
But we're not just adding more collaborative to the project also, existing collaboratives are extending their reach.
Even the most optimistic among us wouldn't have dared hope for this when the project started. 
The slide behind me should show all our new sites for next year - so welcome to all new members of the family.
I'd like to reflect for a moment on how far we've come.
Projects on this scale normally take years to plan and even longer to set up. I see a lot of ideas floating down the corridors of the Department of Health: many get entangled in a spider's web of development and consultation for so long that by the time they're ready, they are already out of date.
Not so here. We have gone from a standing start eighteen months ago, to a position where children from Poole to the Pennines are getting access to treatment they simply haven't had before.
By next year, over a third of under-19s will live in an area where CAMHS has been transformed.
That's four million in all.
And what's even more exciting is that there is still more to come.
The new e-learning programmes will extend the skills and knowledge of all staff working with children and young people. So they can learn much more about mental health issues.
And when it comes to data, there is still a huge gap between where we are and where I want us to be.
Session-by-session monitoring means we can collect specific data on how effective CAMHS is. Quantifying what it achieves and how it helps children and young people on a case-by-case basis.
You can use that to help you in the consulting room. So every child or young person gets a service that is right for them, based on precedent rather than identikit models.
But as well as helping the young people themselves, that data does something else as well.
It proves just what a good job you do.  
I think payment by results can help you too.
There is no question that a payment system that rewards excellence improves the care people get.
We are working towards a system where money follows patients. So it goes to providers who spend it in the most effective ways and look afresh at how to meet needs that aren't met at the moment.
I think your colleagues in adult mental health services will be intrigued by the new ways you deal with the complex, 'messy' cases that crop up so often with CAMHS.
And in how everything is targeted towards providing better access to the better therapies.
When the Deputy Prime Minister and I visited the City of Islington Academy to launch phase two of the programme, we saw the forward thinking way in which the school is commissioning and using these services. I was struck by the story of a boy who was a selective mute - a perfectly friendly, well rounded boy at home, but who refused to speak at school.
This clearly had hindered him from achieving his potential - and clearly 'talking therapies' weren't yet suitable for him. But the use of art by his therapists helped bring him out of himself, before he slowly began to speak and was then able to receive more evidence based therapies that have since helped him progress and given him the best chance to reach his potential.
As we roll out the programme, we extend to new areas. The exciting e-portal and, in particular, the work with counsellors will offer real benefits in schools and in the community. So everyone who works with children and young people can develop their skills.
As much as we have made progress on treatment there is another even bigger challenge.
Stigma.
Tragically, a quarter of young people have said that the stigma attached to their mental illness has made them want to give up on life.
Furthermore, 27% of young people with mental health problems under the age of 25 say that the discrimination they face as a result has also made them give up on their life's ambitions.
Stigma.  Is a huge barrier to progress one we must overcome.
Which is why I fought hard to secure Government funding for 'Time to Change'.
And why I am delighted that as part of the next phase of their work they are focusing on children and young people.
Indeed the research I just quoted also highlights that much of the stigma that young people face comes from those who you would expect to turn to first at a time of need, including friends 70%, brothers and sisters 35% and parents 57%.
If attitudes are to shift in society, it must be done at a young age.
On one of my visits, I recall sitting in on an excellent school class where children as young as 11 were learning about mental health and were displaying views about mental health that were far more insightful and mature than in many adults. Encouraging but more to be done.
Openly talking about mental health problems can start to break down the stigma.
Many of you will have heard about the mental health debate in parliament only a month ago - when some MPs openly spoke about their depression and obsessive compulsive disorder in the chamber of the house. This kind of change is so heartening, and perhaps we are at one of those tipping points when things really start to change.
In Government we will play our part and will shortly publish a suicide prevention strategy, the mental health strategy implementation framework and the Children and Young People's Health Outcomes Strategy.  
But if I'm honest, this isn't about strategies and frameworks.
It's about individual children and young people.
The progress so far deserves celebration. The signs of the potential of what we are doing are extraordinary.
Thank you.
Published 17 July 2012