16 Air Assault Brigade to replace 4th Mechanized Brigade in Helmand
16 Air Assault Brigade will replace 4th Mechanized Brigade in October 2010 as the lead formation of British troops in Helmand province, Defence Secretary Dr Liam Fox has announced today, Wednesday 14 July 2010.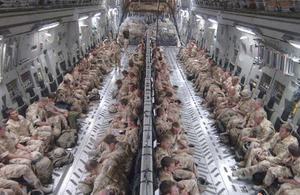 Headquarters 6 (UK) Division will remain as Headquarters Regional Command (South) until November 2010.
The deployment of 16 Air Assault Brigade and accompanying units will not result in any change to the UK's established and enduring conventional force level of 9,500 personnel.
Volunteer and regular members of the Reserve Forces will continue to deploy to Afghanistan as part of this integrated force package, and we expect to issue around 770 call-out notices to fill some 600 posts.
On completion of their mobilisation procedures, the reservists will undertake a period of training and, where applicable, integration with their respective receiving units. The majority will serve on operations for around six months. As part of this commitment, we expect up to 16 members of the Sponsored Reserves to be in theatre at any one time.
Following 16 Air Assault Brigade's six-month deployment it is planned that 3 Commando Brigade will take over as the lead formation of Task Force Helmand.
The forces deploying with 16 Air Assault Brigade include:
Headquarters 6 (UK) Division (who will hand over command of Regional Command (South) to the US 10th Mountain Division on 1 November 2010)
16 Air Assault Brigade Headquarters and Signal Squadron (216 (Parachute) Signal Squadron)
Headquarters, 102 Logistic Brigade
Headquarters, 104 Logistic Support Brigade
Elements of 845 Naval Air Squadron
Elements of 846 Naval Air Squadron
Elements of 847 Naval Air Squadron
Elements of 857 Naval Air Squadron
Elements of the Royal Naval Regulators
Elements of 7th Parachute Regiment Royal Horse Artillery
Elements of 3rd Regiment Royal Horse Artillery
Elements of The Household Cavalry Regiment
Elements of 2nd Royal Tank Regiment
Elements of 5th Regiment Royal Artillery
Elements of 16th Regiment Royal Artillery
Elements of 32nd Regiment Royal Artillery
Elements of 39th Regiment Royal Artillery
Elements of 47th Regiment Royal Artillery
Elements of 22 Engineer Regiment
Elements of 36 Engineer Regiment
Elements of 39 Engineer Regiment (Air Support)
Elements of 42 Engineer Regiment (Geographic)
Elements of 170 (Infrastructure Support) Engineer Group
Elements of 2nd Signal Regiment
Elements of 10 Signal Regiment
Elements of 14th Signals Regiment (Electronic Warfare)
Elements of 21st Signal Regiment (Air Support)
1st Battalion The Royal Irish Regiment
Elements of 1 Regiment, Army Air Corps
Elements of 3 Regiment, Army Air Corps
Elements of 4 Regiment, Army Air Corps
Elements of 9 Regiment, Army Air Corps
Elements of 9 Regiment, The Royal Logistic Corps
Elements of 23 Pioneer Regiment, The Royal Logistic Corps
Elements of 24 Regiment, The Royal Logistic Corps
Elements of 27 Regiment, The Royal Logistic Corps
Elements of 29 Regiment, The Royal Logistic Corps
7 (Air Assault) Battalion Royal Electrical and Mechanical Engineers
Elements of 6 Close Support Battalion, Royal Electrical and Mechanical Engineers
156 Provost Company Royal Military Police
Elements of 158 Provost Company Royal Military Police
Elements of Special Investigations Branch Germany
Elements of the Military Provost Staff and Military Provost Staff (Volunteers)
Elements of 1st Military Working Dog Regiment
Elements of 1 Military Intelligence Brigade
Elements of the Military Stabilisation Support Group (MSSG)
Elements of The Honourable Artillery Company
Elements of 100 Regiment Royal Artillery (Volunteers)
Elements of 101 Regiment Royal Artillery (Volunteers)
Elements of 103 Regiment Royal Artillery (Volunteers)
Elements of 104 Regiment Royal Artillery (Volunteers)
Elements of 105th Regiment Royal Artillery (Volunteers)
Elements of 106 Regiment Royal Artillery (Volunteers)
Elements of 2nd Battalion The Royal Irish Regiment (Volunteers)
Elements of 4th Battalion The Parachute Regiment (Volunteers)
Elements of The London Regiment (Volunteers)
Elements of 88 Postal and Courier Regiment (Volunteers), The Royal Logistic Corps
Elements of 148 Expeditionary Force Institute Squadron (Volunteers), The Royal Logistic Corps
Elements of 395 Air Despatch Troop (Volunteers), The Royal Logistic Corps
Elements of the Joint Medical Command
Number 2 Force Protection Wing Headquarters, Royal Air Force
Number 7 Force Protection Wing Headquarters, Royal Air Force
Elements of Number 2 Royal Air Force Police Wing
Elements of Number 3 Royal Air Force Police Wing
Elements of 51 Squadron Royal Air Force
Elements of 101 Squadron Royal Air Force
Elements of 39 Squadron Royal Air Force
Elements of 5 (Army Cooperation) Squadron, Royal Air Force
Elements of 18 Squadron, Royal Air Force
Elements of 24 Squadron, Royal Air Force
Elements of 27 Squadron, Royal Air Force
Elements of 28 Squadron, Royal Air Force
Elements of 30 Squadron, Royal Air Force
Elements of 78 Squadron, Royal Air Force
Elements of the Tactical Supply Wing, Royal Air Force
Elements of 1 Air Mobility Wing, Royal Air Force
Elements of 1 Air Control Centre, Royal Air Force
Elements of 90 Signals Unit, Royal Air Force
Elements of 2 (Mechanical Transport) Squadron, Royal Air Force
Elements of 5001 Squadron, Royal Air Force
Elements of 3 Mobile Catering Squadron, Royal Air Force
Elements of Tactical Medical Wing
Elements of 1 (Expeditionary Logistics) Squadron, Royal Air Force
Elements of 93 (Expeditionary Armaments) Squadron
Elements of Tactical Imagery Intelligence Wing (TIW)
Published 14 July 2010