Press release
£15 million boost to improve cycle accident hotspots
£15 million additional funding to tackle dangerous junctions for cyclists across the country.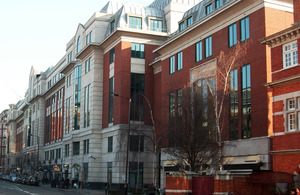 A further £15 million funding to tackle dangerous junctions for cyclists across the country was announced today (26 June 2012) by Transport Ministers Norman Baker and Mike Penning.
The investment - for use by English local authorities outside London - is in addition to the £15 million awarded to Transport for London in March to tackle accident hotspots where cyclists have been killed or seriously injured. This has already delivered improvements at a number of sites in the capital with other junctions set to benefit over the next few months.
Local authorities will need to submit bids to the Department for Transport for a share of the latest fund. We will also be looking to the local authorities themselves to contribute further money, in order to maximise the work that can be undertaken.
Transport Minister Norman Baker said:
I am delighted to be able to provide today a further £15 million to improve cycle safety, by enabling local authorities to tackle proven dangerous junctions. This investment - alongside a number of other initiatives we have progressed - will make our roads a safer place for everyone using them.

Cycling is a fantastic way of getting fit, reducing congestion and improving the environment, and cyclist safety matters hugely.
Details of the new fund were being outlined today to the department's Cycling Forum, which includes cycling, motoring, and road safety groups, who have been working together to find ways to improve cycle safety. The department will now work in partnership with local authorities and the forum to identify the most important junctions to have safety improvements. This process will use analysis of accident data to highlight potential sites for improvement.
Decisions on how the money will be allocated are likely to be announced in the autumn.
The investment is the latest government action to improve cycling safety.
The department is already giving £1.8 billion of funding to local councils enabling them to design solutions appropriate to their local transport challenges, including improving their road infrastructure to encourage and support cycling.
Furthermore, the vast majority of projects being funded under the department's £560 million Local Sustainable Transport Fund contain a cycling element.
Ministers recently announced a new allocation of £15 million for better cycle routes and facilities across the country.
The department has also made it simpler for councils to put in place 20 miles per hour zones and limits, and install Trixi mirrors to improve the visibility of cyclists at junctions, by reducing bureaucracy.
Notes to editors
Members of the Cycling Forum's Safety Group include:
Association of Chief Police Officers
Bike Right!
British Cycling
Campaign to Protect Rural England (CPRE)
CTC - the UK's national cyclists' organisation
Cyclenation
Department for Transport
Freight Transport Association
Institute of Advanced Motorists
London Cycling Campaign
Mineral Products Association
Parliamentary Advisory Council for Transport Safety (PACTS)
Road Haulage Association
Transport for London and Sustrans.
Press enquiries: 020 7944 3108
Out of hours: 020 7944 4292
Public enquiries: 0300 330 3000
Published 26 June 2012