Press release
£158m to be spent on new flood defences across the North West
Homes across the North West will be better protected from floods thanks to an unprecedented six-year £2.3 billion flood defence programme.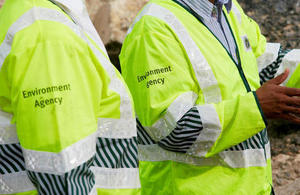 Homes in Morecambe, Rossall and Lytham St Annes will be better protected from floods thanks to an unprecedented six-year £2.3 billion flood defence programme, benefiting the North West to the tune of £158m.
The new flood defence scheme in Rossall, just one of 162 schemes in the North West getting the green light today, is worth more than £47 million and will protect 5,600 properties in the area.
Some other examples of schemes funded in the first two year 'construction' phase in the North West include:
The restoration of Morecambe Wave Reflection Wall which will be rebuilt in three phases and ensure more than 8,000 homes and businesses will be protected.

The construction of a flood storage basin in Salford is due to start in 2015 which will prevent flooding to 1,400 houses and 500 businesses costing approximately £14 million.

A £3.5 million scheme in Town Beck, Ulverston will reduce flood risk to almost 300 local homes and businesses.

A flood scheme in Northwich, part funded by the local authority will protect 700 homes and businesses and will cost £4.7million.
Danny Alexander, the Chief Secretary to the Treasury said:
By investing £158 million, we can protect thousands of homes and businesses across the north west from the devastating effect of flooding.
Investing £2.3 billion to support 1,400 schemes across the country will protect 300,000 homes from the north-east to the south-west. As well as ensuring people's safety and peace of mind will also bring over £30 billion of economic benefit, making it great value for money as part of this government's drive for a stronger economy and a fairer society.
Environment Secretary Elizabeth Truss said:
Under our plans, the North West will be better protected from floods, with 162 schemes being delivered across the region, including the restoration of the Morecambe Wave Reflection Wall, bringing peace of mind to residents and businesses.
We are spending £3.2 billion in flood management and defences over the course of this parliament - half a billion pounds more than in the previous parliament. This, combined with the record level of investment in capital we have set out today, will improve protection to 465,000 homes and businesses by the end of the decade.
Environment Agency Chairman Sir Philip Dilley said:
Our priority is to do as much as we can with every pound of funding from government and local partners, we now expect to provide better flood protection to an additional 300,000 properties in England by the end of the decade. With one in six homes in England at risk of flooding, and recognising the risk of flooding can never be eliminated, we would also encourage people to take their own steps to prepare for flooding, for example by signing up to the Environment Agency's free flood warning service. This first ever long-term investment programme will protect more than 35,000 properties in the North West. Across England, it will reduce flood risk by five percent and save the economy £2.7 billion by 2021. The lifetime benefits of this investment will be even higher at over £30 billion. New schemes may also be added as the programme progresses.
Since the beginning of this parliament flood defence investment has improved protection to over 230,000 homes and over 580,000 acres of land. The new investment will protect at least another 300,000 homes in England by the end of the decade.
The investment programme was published alongside a new long term study from the Environment Agency, which shows that the planned investment will reduce overall flood and coastal erosion risk in England.
To see the national picture, visit the interactive Google map
Published 2 December 2014