146/2012 - A fresh start for Britain's Reserves
Measures to overhaul Britain's Reserve Forces, to create a fully integrated Armed Forces, were unveiled today as part of a wide-ranging consultation published by the Defence Secretary Philip Hammond.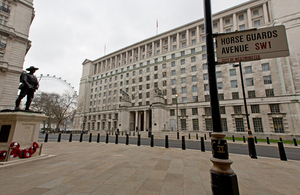 The consultation, 'Future Reserves 2020: Delivering the Nation's Security Together', proposes more training for Reservists, a 'kitemark'-type award for supportive employers, and the idea of changing the 'Territorial Army's' name to reflect their enhanced role.
Under the proposals there will be a new relationship between Reservists, Employers and Government, a transparent approach with employers given more certainty about the timing of possible mobilisations and more notice when they occur. The measures will create a fully integrated force of Regulars and Reservists, using similar equipment and training together. It will mean that the Reserves not only produce individual augmentees to Regular Units, but also deploy as formed units and sub-units.
The number of trained Reserves will grow to around 35,000 across all three Services by 2020, aligning the mix of Regular and Reserve components with many of our closest allies. The Army will see the biggest change with 30,000 trained Reserves, creating a total land force of about 120,000. And the plans are backed by an extra £1.8 billion in funding over the next ten years for new equipment, uniforms and training for the Reserves.
The consultation will also look at:
increasing the number of days Army Reservists are required to train – from 35 to 40 days a year;
a change of name from 'Territorial Army' to Army Reserve – better reflecting the future role and tasks; and
encouraging more ex-Regulars to become Reservists – making it easier for them to transfer to the Reserves and developing incentives for them to do so.
Defence Secretary Philip Hammond said:
This transformation of the Reserves will see a radical shift in the way in which we use them, with units deployed as formed units or sub-units as well as delivering individual augmentees. Increased training, better equipment and extra investment in our Reserves are all integral to our vision of a formidable, adaptable and flexible Armed Forces, with a Reserve/Regular balance more in line with our main allies.>
This Government has committed £1.8 billion to rebuilding our Reserves. The consultation I have launched today is about working with Reservists, their families and employers to use that money to design the Reserve forces of the future.
Vice Chief of Defence Staff General Nick Houghton said:
Since 2003 there have been over 25,000 Reservists mobilised, fighting alongside their Regular counterparts. 29 have paid the ultimate price for their country and just this summer we saw 2,000 Reservists provide a pivotal security role at the London 2012 Games.
In the future we will become even more reliant on our Reserves. But this increased reliance means that there are key issues that we have to tackle – like our relationship with employers and the notice period ahead of mobilisation – to get this right. I want to encourage everyone to get involved in this consultation and have their say.
The consultation will run until 18 January 2013. Following this consultation we will publish a White Paper in Spring 2013 setting out this new relationship.
Notes to Editors
The consultation is available on the Ministry of Defence website. To view the consultation and have your say visit - http://www.mod.uk/DefenceInternet/AboutDefence/CorporatePublications/ConsultationsandCommunications/PublicConsultations/FutureReserves2020Consultation.htm

There are currently 29,291 Reserves across all three Services. With 25,430 in the Territorial Army, 2,526 in the Maritime Reserve and 1,335 in the Royal Auxiliary Air Force.

We are growing the total strength of our Reserves to around 44,450 across all three Services by 2020, of which 35,000 will be fully trained (with a trained strength of 30,000 in the Army alone).

The Ministry of Defence is investing £1.8 billion over the next 10 years to boost the Reserves with better training, new vehicles and radios and Regular Army uniforms. This is already having an effect: * 12 of the 26 Army Reserves overseas training exercises planned for 2012 and 2013 have already been conducted, in locations including Macedonia, Italy and Cyprus; * 22 of these are new and a result of the new Future Reserves 2020 Funding. The Royal Navy and Royal Auxiliary Air Force have continued to provide overseas training opportunities; * overseas exercises are expected to double next year; and * new uniforms in line with what their Regular counterparts wear, are being delivered to Reserve units.

The Ministry of Defence already works in the "Partnering for Talent" programme with employers who see the value of Reserve training and development opportunities for their employees. Organisations already working with us in supporting the Reserves include – AA, BAE Systems, BT, Capita, Carillion, Department of Health, Manpower, HP, Rolls-Royce, Serco and the DWP.

For additional comments or for media queries please contact Jenny Dickens in the Ministry of Defence press office on 020 7218 7909.
Published 8 November 2012