£145 million boost to help communities tackle empty homes
A further multi-million pound cash boost for communities will help tackle the blight of empty properties and bring thousands of homes back into…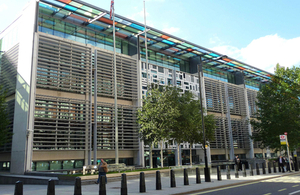 A further multi-million pound cash boost for communities will help tackle the blight of empty properties and bring thousands of homes back into use, Communities Minister Andrew Stunell announced today.
Following bidding processes, 20 successful councils will each receive a slice of £60 million to tackle clusters of empty homes, and voluntary and community groups across the country will receive over £25 million to tackle individual empty properties in their area, ensuring that another 5,600 empty homes are lived in once again.
The number of long term empty homes has fallen to the lowest level since 2004, but with 720,000 empty homes across England, Mr Stunell believes there is still more to do.
Communities Minister Andrew Stunell said:
The number of empty homes in this country is a national disgrace - for every two families that need a home there is one standing empty. Empty homes bring down a neighbourhood and attract vandals and fly-tipping, as well as being a waste of much needed housing.

I'm delighted to announce this funding boost today that will allow councils and community groups to bring these houses back to life and offer families a chance of a stable and secure home.

We need to do much more to tackle this problem. This Government is breathing life back into these neglected neighbourhoods.
Previous announcements have seen £70 million allocated to bring empty homes back into use as affordable housing, the appointment of TV presenter George Clarke as an independent adviser to the government on empty homes, and plans brought forward to allow councils to charge extra council tax on properties vacant for two years or more through the Empty Homes Premium.
Today's announcement brings the total investment to £215 million to bring these empty properties back into use. Ministers believe that targeting the funding in this manner will have more success than previous attempts, such as the Pathfinder programme, that too often left families in half-empty ghost streets.
Empty homes can often attract anti-social behaviour and associated crimes such as vandalism and fly-tipping. By returning these homes into use and providing families with much needed homes, new life will be breathed into these areas as well as providing local training and employment to do so.
20 successful bids from local authorities have been announced under the Clusters of Empty Homes Fund with winning bidders offering value-for-money proposals and match funding alongside strong backing from their local communities.
Examples of clusters of empty homes funding include:
A partnership bid across 10 local authorities in the Greater Manchester area, to tackle clusters of empty homes across the area. The project utilises early intervention and advice for owners; matching owners of empty homes with investor landlords; bringing about environmental regeneration; and pioneering an enforced sales process
House to Home - an innovative project that will see 100 empty properties brought back into use in Gresham, Middlesbrough, a key town centre regeneration site and priority for the Tees Valley. The bid uses over a £1 million private sector investment and a commitment to use local labour throughout the process.
Backing community-led efforts
In some areas, the expertise for returning empty homes into use lies with community groups or voluntary organisations and that is why £25.8 million grant is being given to innovative schemes around the country that will allow groups to make a real difference where in the past they have often struggled to be involved or raise financing.
Examples of winning schemes, which have been agreed in principle, include:
A homesteading scheme in Stoke to refurbish terraced housing;
7 schemes from YMCAs to return properties to use; and
Renovated properties to provide accommodation for women at risk of domestic violence
Independent empty homes adviser, George Clarke, said:
The announcement of this funding is a fantastic step forward in bringing empty homes back into use, especially the £25 million of funding for community and voluntary groups. It's now up to these organisations to think creatively using new forms of procurement like home steading, sweat equity and apprenticeship schemes to make every penny stretch as far as possible.

This is an amazing opportunity to rethink the way we refurbish our existing housing stock in Britain and for communities to declare that empty homes are unacceptable when there are so many families in need of a decent home. Although there is still a long way, this is a brilliant start.
Notes to editors
The successful local authorities for the Clusters of Empty Homes Fund can be found here: www.homesandcommunities.co.uk/ourwork/clusters-of-empty-homes (external link).

Empty Homes Community Grant Fund schemes have been agreed in principle and are subject to due diligence checks. A full list of schemes will be published when they have been confirmed.
Published 29 May 2012