News story
14-year old twins honoured at Downing Street for tackling gang culture
Sisters are given 45,000th Diana Award at ceremony in Number 11 Downing Street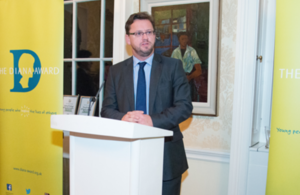 14-year old twins were honoured for tackling gang culture in their local community by Minister for Civil Society Rob Wilson at a reception at Number 11 Downing Street.
Deborah and Dorcas, from Newham in London, were presented with the 45,000th Diana Award at the reception which marked the 16th Anniversary of the Charity.
Patron of the charity, the Prime Minister said:
Deborah and Dorcas have worked tirelessly to make a difference in the lives of other young people. By reaching out to those considering joining a gang, and showing them alternative life choices, they have had a real impact on their local community.

They are thoroughly deserving of the 45,000th Diana Award, and a fantastic example of the inspirational young people the awards have recognised over the last 16 years.
The twins are part of the Diana Award Mentoring Programme and set out to educate those who may be considering becoming involved in a gang by using real-life stories and emphasising the alternative life choices available. Their campaign highlighted the importance of early intervention and tackled key issues at the root of gang culture.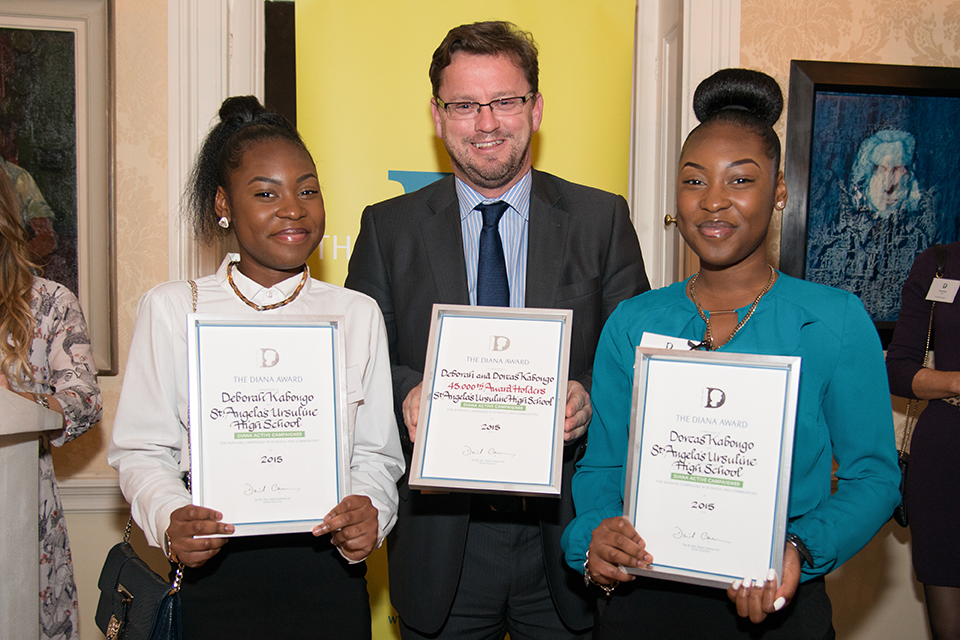 Speaking at the event, Minister for Civil Society, Rob Wilson said:
I am delighted to be honouring such a great cause today. The Diana Award has made a huge difference to millions of lives in its 16 years.

Deborah and Dorcas' dedication and hard work is an inspiration to the whole country. This award recognises their commitment to changing lives of people who are at risk and to making their community a safer place to live in.
Deborah and Dorcas said:
We were truly speechless when we found out that we'd been chosen to receive the 45,000th Diana Award. It is an immense privilege.

We feel utterly honoured - it will only spur us on to do more to help others and tackle issues that matter to other young people in our community.
Chief Executive of the Diana Awards, Tessy Ojo said:
For the approximately 1,000 young people who now receive this award each year it is truly life-changing. It often comes at a pivotal time in their life.

Through our unique training, mentoring and development programmes we empower and motivate them to continue contributing their communities throughout their life.
Published 27 October 2015