121/2012 - Defence Secretary visits Royal Navy in the Gulf and announces UK participation in international mine countermeasures exercise
The Secretary of State for Defence, Philip Hammond MP, has travelled to Bahrain to visit the United Kingdom's Maritime Component Command (UKMCC) headquarters. During his visit, Mr Hammond met the team at the UKMCC and found out first hand about the Royal Navy's presence in the Gulf.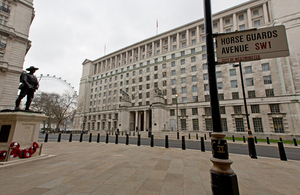 The UK has provided an enduring naval commitment to the region for more than 30 years, culminating in today's presence which includes a frigate, destroyer and four Mine Counter Measures Vessels (MCMVs) as well as numerous personnel who are dedicated to reassuring our allies and protecting both UK interests and those of the wider international community.
Some of this valuable work includes providing support to Combined Maritime Forces, a multi-national partnership of 26 nations conducting a broad spectrum of maritime security operations in the area encompassing both counter-piracy and counter-terrorism duties.
After visiting the headquarters, Mr Hammond then called upon the ship's company of HMS Ramsey, one of the MCMV's based in Bahrain. On board, he announced that the Royal Navy will join with forces from more than 20 nations spanning four continents for an International Mine Countermeasures Exercise (IMCMEX 12) taking place in the region from 16-27 September, 2012.
Speaking about the Royal Navy's involvement in the exercise, Defence Secretary Philip Hammond said:
I was pleased to have the opportunity to meet members of the Royal Navy in the Gulf and see first hand the excellent work they are doing in the region protecting the UK's interests and those of the global maritime community. The UK is committed to a standing presence in the Gulf to ensure freedom of navigation in international waters such as the Straits of Hormuz.
International Mine Counter Measures Exercise 2012 is part of this work, and will allow the Royal Navy to showcase its cutting-edge mine counter measure experience, expertise and technology. It is also an excellent opportunity to work with other nations to enhance international cooperation and interoperability with others operating in this crucial field."
IMCMEX 12 will be hosted by US Naval Forces Central Command (NAVCENT) and will be a combination of an international symposium followed by an at-sea exercise of mine countermeasures, conducted across a number of locations in the Middle East ranging from the Red Sea to the Gulf.
Commenting upon IMCMEX 12 Commodore Simon Ancona, United Kingdom Maritime Component Commander and head of UK naval forces in the region said:
As a professional naval force acting to protect legitimate maritime activities and secure the freedom of navigation for seafarers the Royal Navy is pleased to support this initiative and looks forward sharing experiences with all participating members.
The Royal Navy has based a squadron of Sandown and Hunt class MCMV's in the region since 2006 as the warm water and challenging local environmental conditions make it an ideal location to train and maintain MCM capabilities. They are currently supported by a Bay Class Royal Fleet Auxiliary ship which, when combined, makes the UK one of the few nations that can truly demonstrate an integrated and expeditionary MCM capability.
ENDS
Notes to editors
Contact: Commander Mark Southorn in the Ministry of Defence Press Office on 0207 218 2165
Current MCMVs based in the Gulf: HMS Quorn, HMS Ramsey, HMS Shoreham, HMS Atherstone. Current Bay Class Royal Fleet Auxiliary: RFA Cardigan Bay
Published 11 September 2012