News story
12 Mechanized Brigade prepares for establishing stability in Afghanistan
12 Mechanized Brigade personnel have been preparing on Salisbury Plain for their upcoming deployment to Helmand on Operation HERRICK 16.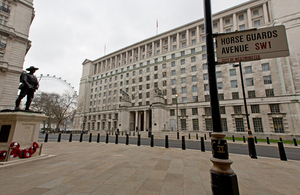 Operation HERRICK, the name given to the UK's military campaign in Afghanistan, has already achieved a great deal.
12 Mechanized Brigade are due to take over from 20th Armoured Brigade as the lead formation of British troops in Helmand province in April 2012.
Their objectives will be to build on the successes of previous UK brigades in southern Afghanistan by continuing to prepare the Afghan army and police forces to take responsibility for the security of Afghanistan.
The brigade will also continue to assist the Afghan National Security Forces (ANSF) in suppressing the insurgency, enabling the ANSF to consolidate the security lead in the areas which have already transitioned to Afghan security control and set the conditions for further moves towards transition.
The Brigade Commander, Brigadier Doug Chalmers, said:
We will be working to build on the hard work of our predecessors to build sustainable Afghan National Security Forces, taking them to the next level. We will continue to move the focus of our operations from counter-insurgency to that of security support assistance for the Afghan forces.
The Defence Secretary, Philip Hammond, and the Chief of the Defence Staff, General Sir David Richards, met with troops from 12 Mechanized Brigade on Salisbury Plain today.
Mr Hammond said:
The training that I have witnessed today is part of a programme which ensures that our troops deploying to Afghanistan are professionally equipped and fully prepared for the task ahead of them. The morale of the men and women I have spoken to today is high and their confidence in their ability to do the job is clear.

Despite the tragic loss of life earlier this week of soldiers from the same battalion [3rd Battalion The Yorkshire Regiment], it is clear that the units preparing to deploy are looking forward to being able to put their training into practice and are keen to get to Afghanistan to engage the enemy.
The men and women of our Armed Forces know that, whatever the risks and sacrifices involved, they have a job to do and a mission to complete. We owe a huge debt of gratitude to them all for their professionalism and commitment to the task we are undertaking.
Due to its complementary make up of armoured, medium and light-roled troops, 12 Mechanized Brigade is capable of a wide variety of missions anywhere in the world.
The brigade consists of a headquarters staff supported by 228 Signal Squadron, five combat units and a host of combat support and combat service support units, enabling it to live, move and fight wherever and whenever it is required.
On Op HERRICK 6, in 2007, 12 Mechanized Brigade was the first non-specialist brigade to operate in Helmand province in southern Afghanistan.
The brigade is based throughout the south of England, with its headquarters located in Ward Barracks in Bulford in Wiltshire.
Published 9 March 2012