116/2012 - Ministry of Defence announces new Permanent Secretary
The Prime Minister, with the agreement of the Secretary of State for Defence, has approved the appointment of Jon Thompson as the Permanent Under Secretary of the Ministry of Defence (MOD).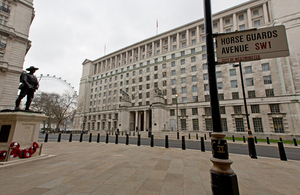 In January 2009 Jon Thompson took up his current post as the MOD's Director General of Finance, where he has been responsible for a range of cross-Departmental business including Departmental strategy, financial management and corporate services. He has spent most of his career in the public service, working for the Department for Education, Ofsted and two local authorities. Jon has also worked for Ernst & Young and in international financial services.
In a message to staff, he said:
It is a privilege to be taking over at this critical time for the MOD. As Director General of Finance, I have seen the passion and commitment that Defence inspires in our people. The MOD is one of the great Departments of State and should be a global exemplar for others to follow. It is a considerable honour to have been selected to lead the MOD as the Permanent Secretary, as we transform the organisation while ensuring success on operations.
The Secretary of State for Defence, Philip Hammond MP, said:
Jon Thompson is well-known and highly respected in the MOD and I wish him well. I have worked with him closely and very much welcome his appointment. I know that he will relish the opportunity to deliver a leaner and more efficient Department that makes the hard headed decisions that are required so that we can focus on maximising resource for the Front Line. We have a lot of work to do to build on the balancing of the MOD's budget, and we will work closely together to do so.
The Head of the Home Civil Service Bob Kerslake said:
I am delighted that Jon Thompson will be taking the top job at the Ministry of Defence. He has the requisite skills, knowledge and experience to lead the Department through the challenges it faces, including delivering continued success on operations and a complex programme of transformational change and reform. I would also like to thank Tom McKane for his leadership of the Department during this interim period.
Jon Thompson will take up his new post on Monday 3 September 2012.
Notes to editors
For more information contact the MOD Press Office on 020 7218 7907
Jon Thompson's biography
Jon was born in 1964 in Norwich, Norfolk and is now a resident of Cambridgeshire. He is married to Dawn and has three sons.
Jon started his career at Norfolk County Council, qualifying for CIPFA in 1989. He then spent two years at Eagle Star before joining Ernst & Young's public sector practice. Jon rejoined local government in 1997, working for North Somerset Council, where he undertook a number of finance and corporate services roles, rising to Director of Finance and Resources. In 2003, he joined Ofsted as its first Finance Director and in the spring of 2004 was appointed Director General of Finance at the Department of Education and Skills. Following a Cabinet reshuffle in 2007 Jon led the creation of the Department of Children, Schools and Families and became Director General of Corporate Services.
Jon joined the Ministry of Defence in January 2009 to reform financial management and lead work to balance the Defence budget. From 2008 to 2011, Jon was also the Head of the Government Finance Profession at HM Treasury with responsibility for overall financial management standards across the Civil Service.
Published 24 August 2012