109/2012 - Military welfare organisations to benefit from G4S donation
The Ministry of Defence today welcomed a donation from Olympic security provider, G4S, which will be used to support Armed Forces' sporting and welfare organisations.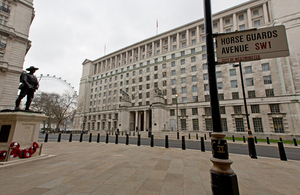 G4S has confirmed it will provide £2.5 million to the Armed Forces community as a goodwill gesture in recognition of the effort of more than 18,000 military personnel who have assisted with Olympic security.
The funds will be put to good use providing a range of welfare amenities, including the purchase of additional sport equipment, and more significantly, to support Service sports' associations, which have backed the progress of Olympic athletes like 2012 gold medallists Captain Heather Stanning RA and Lieutenant Pete Reed RN.
Defence Secretary, Philip Hammond said:
The Armed Forces provided more to the security and protection of the Games than had originally been planned, but as always they have carried out their tasks with professionalism and good humour.
This contribution from G4S is welcome news for the Service Welfare funds and will go some way to recognising the inconvenience and extra burden that this commitment has placed upon our forces and their families. I am delighted that G4S and the Armed forces have worked so well together to ensure a safe and secure Games.
Chief of the Defence Staff, General Sir David Richards, said:
The Armed Forces are pleased to accept this donation from G4S. It recognises all the hard work and commitment Service personnel have displayed during the London 2012 Olympic Games. Together with G4S the men and women of the Royal Navy, Army and Royal Air Force have delivered a safe and secure Olympics.
I am glad that they are receiving the gratitude and recognition for the excellent work, not just from the public, but from those they are working alongside.
Military personnel have been working alongside G4S contractors and civilian volunteers at Olympic Games venues where they have been conducting vehicle and pedestrian screening as well as perimeter security tasks.
Standing Joint Commander for Operation Olympics, General Sir Nick Parker, said:
The day to day working with G4S has been exceptional and I would like to pay tribute to the G4S staff and volunteers. Working side by side I believe they are doing a very professional job in providing Olympic security.
Notes to editors
In providing support to the police, and other civil and Olympic authorities, Defence is contributing 18,200 military personnel during the busiest part of the Games. This contribution will include the provision of a number of capabilities across the Maritime, Land and Air domains delivering specialist niche capabilities and expertise.

For more information please contact Ministry of Defence Press Office on 020 7218 7907.
Published 13 August 2012