Press release
1,000 trees planted at Houghton Trout stream
Environment Agency helping rivers keep their cool in Cambridgeshire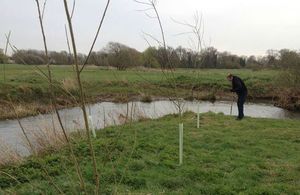 Up to 1,000 trees have been planted on the banks of the Houghton Trout stream, part of the river Ouse, which is an important refuge for many fish species.
Shade created by the trees and from erecting fences will help reduce the chances of the river becoming too warm for freshwater wildlife as the result of a changing climate.
Trees have been planted as part of a four year 'Keeping Rivers Cool' project which combines scientific evidence and practical landscape planning to help freshwater ecosystems cope with changing climates.
Environment Agency fisheries expert Rob Clapham said:
We've had a few relatively hot, dry summers recently where some rivers have reached temperatures too hot for trout to handle. We're hoping that by doing this work now, we can improve and protect this beautiful stretch of river and develop the wealth of wildlife for many years to come.
The Environment Agency has completed the work in partnership with the landowner, Houghton, Wyton and Hemingford Angling Club and The Woodland Trust. Recent gravel works undertaken by Environment Agency in April have already led to lamprey spawning in the stream along with Chub.
Published 29 June 2015