News story
100 years on: Lest we forget
Commemorative events to mark the centenary of the start of the First World War.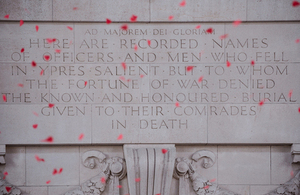 On Monday 4 August, events across the UK and in Belgium will take place to remember the start of the First World War 100 years ago. MOD will be covering the events on social media so you can stay updated throughout the day.
10am to 12.10pm: National service of commemoration for the Commonwealth, Glasgow Cathedral
The first of the national events taking place on Monday will be a Commonwealth Service and wreath laying with a march past in Glasgow, reflecting in particular the contribution of the Commonwealth nations during the First World War.
The event will be attended by His Royal Highness The Duke of Rothesay, as The Prince of Wales is known in Scotland, and 1,400 invited guests including Commonwealth representatives, senior Defence Ministers and military officials.
10.45am to 1pm: Step Short parade, Folkestone, Kent
This parade along The Leas in Folkestone marks the route millions of soldiers took as they marched to Folkestone Harbour to embark on their journey to France. The parade will include 97 tri-service military personnel and a command to 'step short' down the Road of Remembrance to the harbour will take place. HRH Prince Henry of Wales will take the salute at the new Memorial Arch on the Leas.
7.30pm to 8.30pm (GMT) Commemoration at the Commonwealth War Graves Commission's St Symphorien Military Cemetery, Belgium
Their Royal Highnesses The Duke of Cambridge, The Duchess of Cambridge and Prince Henry of Wales will attend the international commemorative event at St Symphorien Military Cemetery.
The cemetery is particularly symbolic as it contains near-equal numbers of British and Commonwealth, and German soldiers. The first British soldier killed on the Western Front and the first recipient of the Victoria Cross in the First World War are also buried here.
Music will be performed by the Coldstream Guards Band, including the Last Post and Reveille, and a lone Scots Piper, from the London Scottish Regiment, will play 'Flowers of the Forest' towards the end of the service.
10pm to 11pm: Candlelit vigil service, Westminster Abbey, London
To close the commemorative events, a candlelit vigil service at Westminster Abbey will take place in the evening of 4 August. It will mark the time that the Declaration of War was signed by the then Foreign Secretary, Sir Edward Grey. Sir Edward famously remarked that "the lamps are going out all over Europe; we shall not see them lit again in our lifetime."
Candles will go out one by one until a burning oil lamp remains at the Grave of the Unknown Warrior. This lamp will be extinguished at 11pm, the exact time the British Empire joined the First World War.
You are invited to take part in the 'Lights Out' campaign during 10pm to 11pm, switching off all your lights except for a single light or candle for a single shared moment of reflection.
Published 31 July 2014