Press release
£100 million to propel future of aerospace industry
Six projects will share £80 million for aerospace research to help deliver growth and innovation in key areas of technology.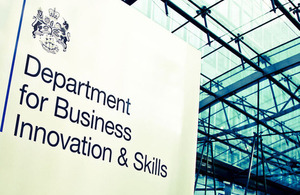 Government backed projects that include Formula 1 experts teaming up with jet engine makers, and aircraft landing gear that could cut carbon emissions were announced by Business Secretary Vince Cable today (3 February 2015).
The ambitious plans are part of a £100 million boost for UK aerospace that includes £20 million of investment in the skills that will take the sector to new heights – including high-tech Masters courses and apprenticeships.
Six projects will share £80 million for aerospace research to help deliver growth and innovation in key areas of technology. This funding comes from a £2 billion pot committed jointly by industry and government as part of our industrial strategy, through the Aerospace Technology Institute (ATI). The projects involve 18 companies, 11 academic or research institutions and 5 Catapult centres from across the UK.
Business Secretary Vince Cable said:
The UK's aerospace industry has been propelled to a position of global excellence by a combination of winning ideas, innovation and talent. This has created new ways to manufacture, new skills and a flexible chain of supplying businesses that will secure the industry's long term profitability.

Government is working in partnership with big businesses like Airbus, GKN and Bombardier on an aerospace industrial strategy to give business the confidence to invest and create long-term jobs in the UK.
The 6 projects receiving funding from the ATI are:
£14 million for 9 partners led by Rolls-Royce – and including McLaren Racing - for high-tech research projects, using Formula 1 know-how to help develop high power gearboxes for future jet engines
£14 million for 9 partners, led by Airbus, to design improved landing gear for future aircraft, including introducing electric taxi technology so that engines can be switched off immediately after landing, saving fuel and reducing emissions
£9 million for 7 companies, led by Airbus Group, to improve the management of power used on aircraft and replace hydraulic systems with electric control systems. This will deliver lighter, greener aircraft, reducing CO2 emissions and saving airlines up to an estimated £2 billion annually
£10 million for 5 companies, led by GE Aviation Systems, to develop advanced printed circuit board test equipment, to improve the manufacture of high quality electronics that can operate in harsh environments
a £17 million project led by Rolls-Royce working with suppliers to develop new concepts for future engine architectures to improve environmental performance
£16 million for Airbus, Marshalls ADG and Bristol, Loughborough and Cranfield Universities to research and test innovations in wing design
Chief Executive of ADS Group Paul Everitt said:
Aerospace is a UK success story with a 17% share of a fast growing global market. The Aerospace Growth Partnership, the unique collaboration between government and industry to encourage investment in innovation, skills and the supply chain, is making the UK a more competitive location. Today's announcement demonstrates the value of the Aerospace Technology Institute and the benefits of a successful industrial strategy.
Top aerospace firms are investing £20 million alongside government in the skills that will take the sector to new heights. The funding will provide a vital boost to industry skills at all levels, with the creation of new high-tech Masters courses, apprenticeships and careers opportunities for young people and graduates alike.
Led by global aircraft manufacturer Airbus, through the Aerospace Growth Partnership, the skills project also sees leading employers including Augusta Westland in Yeovil, BAE in Hook and GKN in South Gloucestershire joining together to develop existing and future aerospace talent.
Airbus HR Director and General Manager Mark Stewart said:
Employer Ownership of Skills will be hugely important in ensuring the UK retains its world-leading aerospace ambitions with employers leading the skills requirements for and on behalf of the sector. It has been a fantastic team effort by a cross section of companies and the Regional Trade Associations. Airbus is proud to be leading this major investment between government and business and our continuing support of the Aerospace Growth Partnership.
These announcements follow the news last week that Growth Deal funding has been set aside to help secure the future of Farnborough – Europe's premier air show. The government is working with ADS, the Local Enterprise Partnership, and local authorities to help install new permanent display facilities.
Chief Executive of the ATI Gary Elliott said:
These investments, as part of a broader industrial strategy, are recognised elements of the UK's Aerospace Technology Strategy which is securing the UK's position in a highly competitive, global aerospace manufacturing sector.
Notes to editors
The Employer Ownership Pilot (EOP) project, developed through the Aerospace Growth Partnership, will see £10.6 million of investment from government supported by £2.5 million cash investment from employers and £7.5 million in-kind contribution from employers.

The Employer Ownership of Skills Pilot is a £340 million competitive bidding fund that invited employers over 2 rounds to tell government how they would better use public investment, alongside their own to invest in the skills of their current and future workforce. The fund is for England only. It is jointly funded by the Department for Business, Innovation and Skills (BIS) and the Department for Education (DfE). The project was developed in conjunction with the UK Commission for Employment and Skills (UKCES).
Published 3 February 2015