£100,000 fund to help farmers protect wildlife and manage flood risk
Farmers and rural communities across England are set to benefit from nearly £100,000 to reduce the risk of flooding, maintain farmland and create…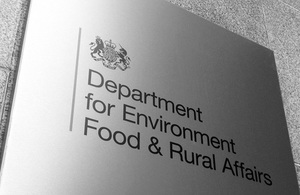 Farmers and rural communities across England are set to benefit from nearly £100,000 to reduce the risk of flooding, maintain farmland and create new wildlife habitats, Environment Minister Richard Benyon announced today as he unveiled the 12 successful projects who bid for Defra funding.
Twelve local Internal Drainage Boards (IDBs) across England have been awarded extra funding to support innovative projects which protect communities or improve the local natural environment.
Richard Benyon said:
"Farmers, working with councils, play an important part in protecting and improving our communities. Today I have allocated almost £100,000 to help them continue that work by using innovative technical solutions to protect farmland from flooding, create new habitats for the country's wildlife and preserve archaeological sites for the benefit of future generations."
The Internal Drainage Board Grant Scheme was launched in August to help IDBs develop innovative ways to improve their efficiency while helping protect their local natural environment. Today the successful applicants are being announced.
Local Internal Drainage Boards (IDBs) manage water levels in areas that require special drainage, such as farmland in river valleys. IDBs play an important role in protecting agricultural land and aiding urban development, as well as conserving and enhancing wildlife.
Grant funding amounting to £99,796 is being awarded to the 12 most innovative and effective applications from across the country: four in Somerset, two in Nottinghamshire, two in Norfolk, two in Yorkshire & Humber, one in Bedfordshire, one in North Lincolnshire.
The twelve projects to receive funding are:
The Tween Bridge IDB will receive £10,000 to help create new habitats on Inkle Moor near Doncaster for the marsh pea - one of the country's rarest plants.
 The Ouse and Humber Water Management Partnership will receive £10,000 to improve land use in the Broomfleet Washland, near Goole in Yorkshire, increasing flood storage capacity and protecting habitats for local wildlife.
 The Lower Brue, Upper Brue and Parrett IDBs near Glastonbury in Somerset will receive £10,000 to help protect important wetland archaeological sites, and an additional £3,500 to improve the quality of habitats for water voles.
The Broads Internal Drainage Board near Ludham in Norfolk will receive £10,010 to develop new habitats for protected species such as grasswrack.
Kings Lynn Internal Drainage Board will receive £12,800 to widen Smeeth Lode Drain and create new reedbed habitat.
The Isle of Axeholme and North Nottinghamshire Water Level Management Board near Scunthorpe in North Lincolnshire will receive nearly £5,500 to help improve efficiency and protect the habitats of vulnerable species in the area
The Parrett Drainage Board near Bridgwater in Somerset will receive £6,000 to install monitoring equipment to make sure water isn't wasted and help create better conditions for aquatic wildlife. An additional £4,500 will be provided to install equipment to reduce flood risk in the region and make the irrigation of wetlands more efficient.
The Laneham IDB will receive £10,000 to improve efficiency and help wildlife flourish in the Beckingham Marshes near Gainsborough in Lincolnshire.
The Lindsey Marsh Drainage Board near Louth in Lincolnshire will receive £10,000 to undertake a study to help it make its water pumping stations more efficient.
The Bedford Group of Drainage Boards near Milton Keynes will receive £7,500 to investigate the use of green infrastructure and how sustainable drainage systems can be maintained in a way that protects vulnerable species.
Published 28 December 2011