News story
£10 million Chinese thoroughbred horse deal announced
Agreement to export UK horses to China announced as part of plans to help grow world leading equine industry.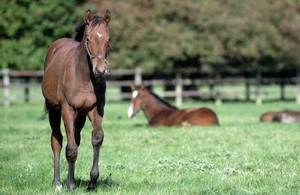 UK thoroughbred and jump horses can now be exported to China after a crucial agreement was reached with the Chinese authorities helping grow our £7 billion equine industry, Environment Secretary Elizabeth Truss announced today.
Initially worth up to £10 million a year for the UK economy, the new Export Health Certificate will allow for the export of horses to China with immediate effect. Given the potential scale of this new market it is hoped the value will rise significantly in coming years.
Our internationally renowned equine industry includes racing, eventing and breeding and provides employment for up to 270,000 people while supporting thousands of small business across the UK.
This new trade will also promote further sales of our world class horse saddlery and veterinary overseas and builds on the government's successful trade visit to China last year.
The deal comes as the Chancellor George Osborne meets with the Chinese Vice-Premier Ma Kai in London today. It also follows Defra's hosting of the Chinese Minister for Import Controls Zhi Shuping at Newmarket in April this year. As part of his visit, the Minister and his delegation had dinner at the historic Jockey Club Rooms and met the British super horse Frankel - unbeaten in his fourteen-race career and now attracting a stud fee of £125,000 a mare.
Environment Secretary Elizabeth Truss said:
I'm delighted that days after Great Britain finished top of the medal table at the World Equestrian Games, we're able to announce a deal that could bring up to £10 million of new trade to our shores.

We've long been a world leader in racing, eventing and breeding – it's only right that our historic yet innovative equine industry is able to export its top-quality horses and expertise across the globe.

This deal is only the latest in our determined push to boost British exports and I look forward to working with this £7 billion pound industry to ensure that it goes from strength to strength, growing our economy and providing enjoyment to millions.
Professor Tim Morris, the equine representative for the Animal Health and Welfare Board for England said:
This country leads the world with its range of top quality horse and ponies. We have a unique combination of the best thoroughbred and sport horses, and a wide diversity of unique breeds from Shetland ponies to Shire horses, and the equine industry, particularly the breeding sector welcomes this access to the developing Chinese market.

Agreed with industry, this deal offers the best possible terms for the UK's equine industry and will enable industry to meet strong demand.
This export deal will add to existing UK deals which saw 4,907 equines exported to 36 countries outside the EU in 2013 - worth an estimated £108m to the UK economy. UK Exports of horses have increased by 12% between 2010 and 2013, from £244 million to £274 million.
It expected the first UK horses will be exported to China by the end of this year.
Horse racing is Britain's second most popular spectator sport with more than 6 million race-goers each year watching 4.3 million riders across 60 racecourses.
For more information please visit here
Published 12 September 2014