Press release
10 foreign flagged ships under detention during May 2014
10 foreign flagged ships were under detention in UK ports during May 2014 after failing Port State Control (PSC) inspection.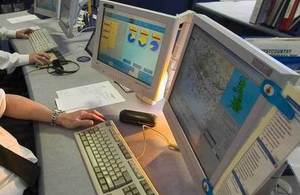 The Maritime and Coastguard Agency (MCA) announced today that ten foreign flagged ships were under detention in UK ports during May 2014 after failing Port State Control (PSC) inspection. During May, there were four new detentions of foreign flagged vessels in UK ports. Six vessels remained under detention from previous months. Five vessels were released during May. A total of five vessels remain under detention at the end of May. 1. In response to one of the recommendations of Lord Donaldson's Inquiry into the prevention of pollution from merchant shipping and in compliance with the EU Directive on Port State Control (2009/16/EC as amended), the Maritime and Coastguard Agency (MCA) publishes details of the foreign flagged vessels detained in UK ports each month. 2. The UK is part of a regional agreement on port state control known as the Paris Memorandum of Understanding on Port State Control (Paris MOU) and information on all ships that are inspected is held centrally in an electronic database known as Thetis. This allows the ships of flags with poor detention records to be targeted for future inspection. 3. Inspections of foreign flagged ships in UK ports are undertaken by surveyors from the Maritime and Coastguard Agency. When a ship is found to be not in compliance with applicable Convention requirements, a deficiency may be raised. If the deficiency is so serious that it has to be rectified before departure, then the ship may be detained. 4. All deficiencies should be rectified before departure if at all possible. 5. When applicable, the list includes those passenger craft prevented from operating under the provisions of the EU Directive on Mandatory Surveys for the safe operation of regular Ro-Ro ferry and high speed passenger craft services (1999/35/EU).
Notes on the list of detentions Full details of the ship. The accompanying detention list shows ship's name, the flag state and the ship's International Maritime Organization (IMO) number which is unchanging throughout the ship's life and uniquely identifies it. Company. The company shown in the vessel's Safety Management Certificate (SMC) or if there is no SMC, then the party otherwise believed to be responsible for the safety of the ship at the time of inspection. Classification Society. The list shows the Classification Society responsible for classing the ship only. Recognised Organisation. responsible for conducting the statutory surveys: and issuing statutory certificates on behalf of the Flag State White (WL), Grey (GL) and Black lists (BL) are issued by the Paris MoU on 01 July each year and shows the performance of flag State.
Ships Detained in May 2014
Date and Place of Detention: - 6 May, Liverpool Vessel Name: - HC Natalia GT: - 5381 IMO No: - 9218193
Flag: - Antigua & Barbuda (WL) Company: - IMM Shipping GmbH & Co KG Classification Society: Registro Italiano Navale (RINA) Recognised Organisation: Registro Italiano Navale (RINA) Recognised Organisation for ISM: Registro Italiano Navale (RINA) Summary: - 18 deficiencies with 3 grounds for detention
| Defective Item | Nature of Defect | Ground for Detention |
| --- | --- | --- |
| 01199 - Other (certificates) | Other | No |
| 09298 - Other (accident prevention) | Other | No |
| 04114 - Emergency source of power - Emergency generator | Not as required | Yes |
| 13199 - Other (machinery | Other | Yes |
| 07199 - Other (fire safety) | Other | No |
| 11113 - Launching arrangements for rescue boats | Not as required | No |
| 13106 - Insulation wetted through (oil) | Damaged | No |
| 10127 - Voyage or passage plan | Lack of information | No |
| 04114 - Emergency source of power - Emergency generator | Not as required | No |
| 11129 - Operational readiness of lifesaving appliances | Not as required | No |
| 11129 - Operational readiness of lifesaving appliances | Not as required | No |
| 09298 - Other (accident prevention) | Other | No |
| 09298 - Other (accident prevention) | Other | No |
| 01218 - Medical certificate | Not properly filled | No |
| 09299 - Other (mooring) | Other | No |
| 15150 - ISM | Not as required | Yes |
| 11199 - Other (life saving) | Other | No |
| 01305 - Log-books/compulsory entries | Entries missing | No |
This vessel was released on 12 May 2014 Date and Place of Detention: - 12 May, Liverpool
Vessel Name: - Neptune GT: - 1082 IMO No: - 7504237
Flag: - Iceland (WL) Company: - Neptune Ltd Classification Society: Flag Recognised Organisation: Flag Recognised Organisation for ISM: Flag Summary: - 15 deficiencies with 2 grounds for detention
| Defective Item | Nature of Defect | Ground for Detention |
| --- | --- | --- |
| 01137 - Civil liability for Bunker oil pollution damage cert | Missing | Yes |
| 09204 - Safe means of access | Not as required | No |
| 01199 - Other (certificates) | Other | No |
| 01123 - Continuous synopsis record | Entries missing | No |
| 15150 - ISM | Not as required | Yes |
| 07105 - Fire doors/openings in fire-resisting divisions | Malfunctioning | No |
| 07101 - Fire prevention structural integrity | Inadequate | No |
| 07101 - Fire prevention structural integrity | Not as required | No |
| 11105 - Rescue boat inventory | Missing | No |
| 09199 - Other (food) | Other | No |
| 07199 - Other (fire safety) | Other | No |
| 10106 - Compass correction log | Not as required | No |
| 02103 - Stability/strength/loading information and instruments | Incomplete | No |
| 09298 - Other (accident prevention) | Other | No |
| Records of seafarers' daily hours of work or rest | Missing | No |
This vessel was released on 15 May 2014
Date and Place of Detention: - 23 May, Southampton Vessel Name: - Vega Polux GT: - 9981 IMO No: - 9308596
Flag: - Antigua & Barbuda (WL) Company: - Vega Reederie GmbH & Co KG Classification Society: Germanischer Lloyd (GL) Recognised Organisation: Germanischer Lloyd (GL) & Bureau Veritas (BV) Recognised Organisation for ISM: Burea Veritas (BV) Summary: - thirteen deficiencies with five grounds for detention
| Defective Item | Nature of Defect | Ground for Detention |
| --- | --- | --- |
| 05106 – IMMARSAT ship earth station | Not as required | No |
| 10116 – Nautical publications | Not updated | No |
| 10111 – Charts | Not updated | Yes |
| 07105 – Fire doors/openings in fire-resisting divisions | Not as required | No |
| 13106 – Insulation wetted through (oil) | Damaged | No |
| 04114 – Emergency source of power – Emergency generator | Not as required | Yes |
| 09229 – Winches and capstans | Not properly maintained | Yes |
| 04114 – Emergency source of power – Emergency generator | Not as required | Yes |
| 14101 – Control of discharge | Not as required | No |
| 07120 – Means of escape | Blocked | No |
| 07199 – Other (fire safety) | Other | No |
| 14101 – Control of discharge | Not as required | No |
| 15150 – ISM | Not as required | Yes |
This vessel was released on 30 May 2014
Date and Place of Detention: - 27 May, Goole Vessel Name: - Suntis GT: - 1564 IMO No: - 8513314
Flag: - Germany (WL) Company: - Warnecke Schiffart GbR Classification Society: Germanischer Lloyd (GL) Recognised Organisation: N/A Recognised Organisation for ISM: Flag Summary: - 5 deficiencies with 1 ground for detention
| Defective Item | Nature of Defect | Ground for Detention |
| --- | --- | --- |
| 09221 – Entry dangerous spaces | Not as required | Yes |
| 09219 – Pipes, wires (insulation) | Not as required | No |
| 10199 – Other (navigation) | Other | No |
| 15150 – ISM | Not as required | No |
| 01209 – Manning specified by the minimum safe manning doc | Not as required | No |
This vessel was released on 30 May 2014
Detentions Carried Over From Previous Months Date and Place of Detention: - 30 April, Belfast Vessel Name: - Urawee Naree GT: - 16,766 IMO No: - 9157351
Flag: - Thailand (WL) Company: - Great Circle Shipping Classification Society: Nippon Kaiji Kyokai (NKK) Recognised Organisation: Nippon Kaiji Kyokai (NKK) Recognised Organisation for ISM: Nippon Kaiji Kyokai (NKK) Summary: - 12 deficiencies with 8 grounds for detention
| Defective Item | Nature of Defect | Ground for Detention |
| --- | --- | --- |
| 07105 – Fire Doors/openings in fore-resisting divisions | Not as required | No |
| 09208 – Protection Machinery | Not as required | No |
| 05114 – Reserve source of energy | Not as required | Yes |
| 07114 – Means of control (opening, pumps) Machinery spaces | Not as required | Yes |
| 07111 – Personal Equipment | Not properly maintained | Yes |
| 07108 – Ready availability of fire fighting equipment | Inoperative | Yes |
| 04106 – Emergency steering position communications / compass reading | Inoperative | Yes |
| 07117 – Jacketed high pressure lines and oil leakage alarm | Not as required | No |
| 07120 – Means of escape | Blocked | Yes |
| 04114 – Emergency source of power – Emergency generator | Not as required | No |
| 04108 – Muster list | Lack of knowledge | Yes |
| 15150 – ISM | Not as required | Yes |
This vessel was released on 02 May 2014
Date and Place of Detention: - 31 March 2014, Fowey Vessel Name: - Munzur GT: - 1971 IMO No: - 9508768
Flag: - Panama (WL) Company: - Anmar Uluslararasi Nakliya Classification Society: Registro Italiano Navale (RINA) Recognised Organisation: Global Shipping Bureau Recognised Organisation for ISM: Global Shipping Bureau Summary: - 14deficiencies with 7 grounds for detention
| Defective Item | Nature of Defect | Ground for Detention |
| --- | --- | --- |
| 10111 – Navigation Charts | Missing | Yes |
| 10127 – Voyage Passage Plans | Missing | Yes |
| 09102 – Accomodation | Dirty | No |
| 09106 – Sanitary Facilities | Not Hygienic | No |
| 09114 – Sleeping Rooms | Dirty | No |
| 09121 – Laundry | Damaged | No |
| 09124 – Galley | Damaged/Not hygienic | No |
| 09132 – Cold Room temperature | Dirty | No |
| 11112 – Launching arrangements for survival craft | Improperly fitted | Yes |
| 08109 – Boiler alarm | Inoperative | Yes |
| 07106 – Fire detection | Not as required | Yes |
| 07106 – Fire detection | Missing | Yes |
| 01134 – Certificates | Other | No |
| 15150 – ISM | Not as required | Yes |
This vessel was still detained at 31 May 2014 Date and Place of Detention: - 12 November 2013, Tyne Vessel Name: - Donald Duckling GT: - 36801 IMO No: - 9137961
Flag: - Panama (WL) Company: - TMT Company Ltd Classification Society: Nippon Kaiji Kyokai (NKK) Recognised Organisation: Nippon Kaiji Kyokai (NKK) Recognised Organisation for ISM: Nippon Kaiji Kyokai (NKK) Summary: -12 deficiencies including 4 grounds for detention
| Defective Item | Nature of Defect | Ground for Detention |
| --- | --- | --- |
| 9204 Safe means of access | Not as required |   |
| 14104 Oil filtering equipment | Not as required | Yes |
| 13105 UMS - Ship | Malfunctioning |   |
| 9132 Cold room temperature | Not as required |   |
| 1107 Safety Management Certificate (SMC/ ISM) | Not properly filled |   |
| 13102 Auxiliary engine | Not as required | Yes |
| 9211 Steam pipes and pressure pipes | Not as required |   |
| 2105 Steering gear | Not properly maintained |   |
| 13101 Propulsion main engine | Not as required | Yes |
| 13107 Other (machinery) | Other |   |
| 13101 Propulsion main engine | Not as required |   |
| 15150 ISM | Not as required | Yes |
This vessel was still detained at 31 May 2014
Date and Place of detention: - 24 October 2013, Southampton Vessel Name: - Ferox GT: - 224 IMO No: - 7312402
Flag: - Vanuatu (WL) Company: - Ferox Towage & Salvage Classification Society: None Recognised Organisation: None Recognised Organisation for ISM: Not Applicable Summary: - 20 deficiencies including 8 grounds for detention
| Defective Item | Nature of Defect | Ground for Detention |
| --- | --- | --- |
| 1108 Load Lines (including Exemption) | Missing | Yes |
| 17102 Other (SOLAS operational) | Other | Yes |
| 1132 Tonnage certificate | Missing | No |
| 17101 Other safety in general | Other | No |
| 1305 Log-books/compulsory entries | Missing | No |
| 10111 Charts | Missing | Yes |
| 1201 Certificates for master and officers | Not as Required | No |
| 1213 Evidence of Basic Training | Missing | Yes |
| 1134 Other (certificates) | Other | Yes |
| 1308 Records of seafarers' daily hours of work or rest | Missing | No |
| 10111 Charts | Not Updated | Yes |
| 10127 Voyage or passage plan | Lack of Information | No |
| 17101 Other safety in general | Other | No |
| 13101 Propulsion main engine | Not as Required | Yes |
| 13101 Propulsion main engine | Not as Required | Yes |
| 2108 Electrical installations in general | Not as Required | No |
| 9209 Electrical | Unsafe | No |
| 1118 Pollution Prevention by Noxious Liquid Sub in Bulk | Missing | No |
| 3108 Ventilators, air pipes, casings | Not as Required | No |
| 17101 Other safety in general | Other | No |
This vessel was still detained at 31 May 2014
Date and Place of detention: - 8 November 2010, Birkenhead Vessel Name: - Most Sky (General Cargo) GT: - 1,972 IMO No: - 9389370
Flag: - Panama (WL) Company: - ER Em Denizcilik Classification Society: - Russian Maritime Register of Shipping (RMRS) Recognised Organisation: - Russian Maritime Register of Shipping (RMRS) Recognised Organisation for ISM:- Russian Maritime Register of Shipping (RMRS) Summary: - 18 deficiencies including 2 grounds for detention
This vessel was still detained at 31 May 2014
Date and Place of detention: 4 March 2010, Lowestoft Vessel Name: - Cien Porciento (General Cargo) GT: - 106 IMO No: - 8944446
Flag: - Unregistered Company: - Open Window Inc Classification Society: - Unclassed Recognised Organisation: - Not applicable Recognised Organisation for ISM: - Not applicable Summary: - 30 deficiencies including 7grounds for detention
This vessel was still detained at 31 May 2014
Notes to Editors
The MCA is a partner in the Sea Vision UK campaign to raise awareness and understanding of the sea and maritime activities. Sea Vision promotes the importance and economic value of the sector and works to highlight the exciting range of activities and career opportunities available to young people within the UK growing maritime sector. Follow us on Twitter. We can be found at MCA_media
For further information please contact Maritime and Coastguard Agency Press Office, on: (023) 8032 9401
Published 11 June 2014