News story
£1 million development fund for technology to cut road works disruption
Technology for reducing road works' disruptions given funding.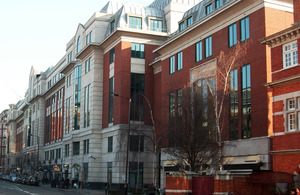 A joint £1 million fund to research and develop new technology to reduce the disruption caused by road works was announced today by the Transport Secretary, Philip Hammond and the Mayor of London, Boris Johnson.
The money will fund an 18-month project by the Transport Research Laboratory (TRL) to examine innovative engineering techniques which could see utilities use temporary road surfacing methods and fast-setting replacement road surfaces. This would allow utility companies to carry out more work at quieter times and re-open roads during peak traffic periods to reduce delays and disruption.
Funding will be provided equally by the Department for Transport (DfT) and Transport for London (TfL).
Secretary of State for Transport, Philip Hammond, said:
Everyone knows how frustrating the delays caused by road works can be, which is why we want utilities and local authorities to be able to make the most of the technology available to help keep disruption to a minimum.

This project will investigate how innovative engineering can provide greater flexibility and allow more road works to be carried out at times when the travelling public will be least inconvenienced.

By using technology to its full effect, as well as making sure that local authorities across the country have the powers they need, I hope that we can see fewer needless jams caused by road works.
It was also confirmed today that work is progressing at the DfT on drafting regulations that would allow local authorities to run lane rental schemes. The Mayor has asked Transport for London to develop proposals for a targeted lane rental scheme on the capital's busiest roads at peak times. That would incentivise utilities and other companies to carry out road works during the less busy periods of the day to reduce their impact on the travelling public.
Consultation on the new regulations and TfL's proposals for a lane rental scheme will take place over the summer and, if approved, regulations would be in place by the end of the year, allowing the Mayor to apply to have the country's first lane rental scheme up and running in London in the first half of 2012.
The Mayor of London, Boris Johnson, said:
Having a lane rental scheme in London will hugely contribute towards clearing unnecessary disruption from the capital's roads. Every company working on our roads wants to do so in the most cost effective way possible and lane rental will give them the clearest incentive to do so. But this is not about penalising utility companies. We want to help them work as efficiently as they can, which is why we will pay for the research of new technology so that they are able to carry out work as swiftly and with as little disruption as possible.
London's Transport Commissioner, Peter Hendy, said:
I am delighted that London is set to be in a position to introduce a much needed lane rental scheme from early next year, and we continue to actively work with the Mayor and DfT to do so. The funds TfL and the DfT are making available to develop new construction techniques will ultimately contribute towards keeping more roads open during peak times while works are still carried out off-peak and during the night.
Only 20 per cent of utility road works are currently carried out during off-peak hours on the most congested parts of the Transport for London Road Network, compared to over 70% of TfL's work. By developing these new techniques to enable road works to be done more rapidly, we can make sure that this research meets the needs of all respective industries, and ultimately reduces disruption and congestion on the capital's major roads.
Further information
The DfT is currently drafting regulations to allow local authorities to run lane rental schemes. Such schemes would require those who dig up the roads to pay a daily charge for each lane occupied during busy traffic periods. Subject to consultations, planned for the summer, and approvals for both the regulations and the Mayor's scheme, it is TfL's aspiration to introduce lane rental charges from Spring 2012.
Roadworks count for 38 per cent of the capital's traffic delay and can cost London's economy almost £1 billion a year.
In April 2009 the Mayor agreed a voluntary Code of Conduct for Roadworks with the five largest utility companies (BT Openreach, Thames Water, EDF Energy, Virgin Media and the National Grid) working in London that has already resulted in better managed roadworks. These were joined by Southern Gas Ltd on 25 February 2010. The 6 utility companies, along with TfL highway works, account for 94 per cent of all works carried across London.
During the first 6 months of the Mayor's Code of Conduct for Roadworks, the number of roadworks taking place only outside of peak hours on the TfL road network more than doubled (compared to the same 6 months in the previous year), rising from 1,224 in May-October 2008 to 2,451 in May-October 2009 - helping to cut delays on London's roads. It also found that there has been a reduction in the number of works inspected that required improvement for safety reasons; and only a small number of sites were now failing to display standard information signage. In June 2010, the National Joint Utilities Group adopted the Mayor's Code of Conduct as a template for a national Code, which is evidence of London's leadership in this area. TfL and the Mayor of London is also working to sign all 33 London boroughs up to the Code by 2012, helping to ensure better management of roadwork on all of the capital's roads.
TfL and 18 London boroughs currently operate a roadwork permitting scheme: City of London, Westminster City Council, The Royal Borough of Kensington and Chelsea and the London Boroughs of Barnet, Brent, Bromley, Camden, Croydon, Ealing, Enfield, Hackney, Hammersmith & Fulham, Haringey, Hounslow, Islington, Lewisham, Redbridge and Wandsworth. In the period April 2010 - March 2011, TfL has granted around 48,000 permits, refused around 9,700 for varying reasons and prevented more than 1,300 days of disruption by working with the utilities to better coordinate their works on TfL's roads. These measures alone have helped reduce disruption from poorly planned and coordinated works.
Following the success of the London Permit Scheme, a number of additional London boroughs have now agreed to sign up to introduce a permitting scheme on schemes across London to 27, which, together with TfL's network, would cover around 80 per cent of all roads in the capital.
TfL continues to discuss introducing a permitting scheme with the remaining six London boroughs, with a look to have all of the capital's roads signed up by 2012.
Through the London Permit Scheme and the Mayor's Code of Conduct for Roadworks, TfL has helped to reduce the amount of disruption on London's roads caused by road works. So far this year, TfL has recorded a 21 per cent reduction in the level of serious and severe disruption occurring on the Transport for London network across London, compared to the same period last year, and has managed to save more than 1,300 days of disruption by better coordination of roadworks on the capital's busiest roads.
For every 30 minutes Londoners travelled on our roads last year, on average, their journeys are 29 seconds faster today. Given that there are the equivalent of 10 million such car journeys made every day on the network, this means that London's drivers are cumulatively sitting in their cars for over 80,000 hours less every day.
Roads media enquiries
Media enquiries 020 7944 3021
Out of hours media enquiries 020 7944 4292
Switchboard 0300 330 3000
Published 10 May 2011